Convenience Channel Players Bringing Their 'A' Game for the Big Game
Get great content like this right in your inbox.
Subscribe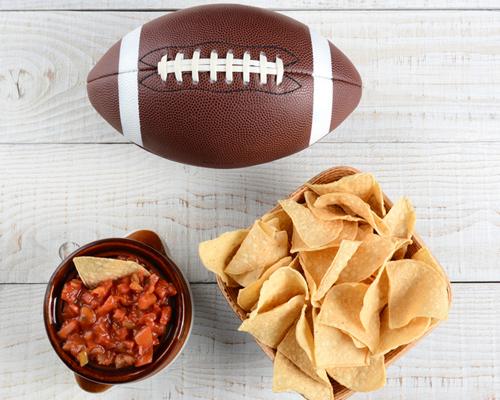 NATIONAL REPORT — With just days to the final NFL game for the season, consumers, retailers and consumer packaged goods companies are gearing up for Super Bowl LIII.
The championship matchup between the New England Patriots and the Los Angeles Rams takes place Sunday Feb. 3 at Mercedes-Benz Stadium in Atlanta.
According to the National Retail Federation (NRF), American adults said they will spend an average of $81.30 for a total $14.8 billion as they watch the showdown. The results are part of the annual survey released today by NRF and Prosper Insights & Analytics.
"You don't have to be a football fan to celebrate the Super Bowl," NRF President and CEO Matthew Shay said. "Whether it's to see who wins, watch the halftime show and commercials or just get together with friends, this is the biggest party since New Year's Eve. Spending is expected to be at one the highest levels we've seen. And retailers are ready whether you need food, team jerseys, decorations or a new TV."
The average spending is virtually unchanged from last year's $81.17 and is the second highest in the history of the survey after a record of $82.19 set in 2016 when the Denver Broncos beat the Carolina Panthers in a 24-10 final game in Levi's Stadium, Santa Clara, Calif.
However, the total amount dipped from last year's $15.3 billion, primarily because fewer people plans to watch the game — 182.5 million this year compared with 188.5 million in 2018. The overall spending is still the third-highest on record, after last year's figure and $15.5 billion in 2016, according to the survey.

The biggest spenders are those ages 35-44 at an average $123.26 while the lowest are those 65 and older at $40.97. Viewers in the Northeast plan to spend the most, at an average $94.89, followed by the West at $84.01, the South at $79.09 and the Midwest at $69.24.

"The numbers vary from year to year, but regardless of the economy, politics or the weather, most Americans manage to take a break every year for the Super Bowl," Prosper Vice President of Strategy Phil Rist said. "The big game is a day for big spending regardless of who plays or wins."

And those numbers should have the players in the convenience channel hearing cash registers ring.
In preparation for the game, Frito-Lay North America unveiled its inaugural U.S. Snack Index, a poll asking consumers what they plan to snack on during this year's big game.  
A division of PepsiCo, Frito-Lay products include Doritos, Cheetos, and Tostitos. It is an official sponsor of Super Bowl LIII.
Key insights from the U.S. Snack Index include:
Nine out of 10 viewers plan to have at least one snack during the game. In addition, 80 percent of Americans will have potato chips or tortilla chips.

No two cities are exactly alike when it comes to Super Bowl snacking preferences. Chicago's top pick is popcorn. Los Angeles had the highest percentage of potato chip lovers, while Boston chose tortilla chips as their top pick.

Nearly half of Gen Z and millennials selected cheesy snacks as a top pick. In addition, spicy snacks fared best with these age groups.

Salsa was the overall top dip choice. French onion dip was the most popular dip for potato chips, while both salsa and guacamole came in high for tortilla chip dipping.

More than one-third of those polled planned to share their photos on social media.

More than half of viewers prefer to prepare simple recipes when they are attending a partly or hosting their own gathering.
Here is a look at how convenience store retailers and suppliers are meeting the game day needs of consumers:
bubly
bubly, PepsiCo's sparkling water brand, will debut its first-ever Super Bowl advertisement with a 30-second in-game spot titled "Can I have a bublé?" featuring four-time Grammy award-winning singer Michael Bublé. Four new flavors, blackberrybubly, cranberrybubly, raspberrybubly and peachbubly, are featured in the ad, which join the brand's current portfolio of eight flavors with no artificial flavors, sweeteners or calories.
In the his first U.S. football ad, the Canadian born singer is convinced that bubly is in fact, bublé — specifically named after him. In the spot, Bublé thinks it's a bublé world and we're all just living in it. All eyes on Bublé continue as comedian Aparna Nancherla and others attempt to convince him otherwise.
Just a year after the brand's 2018 launch, on track to exceed $100 million in retail sales in its first year, the bubly Super Bowl ad showcases its upbeat and playful persona. With a growing flavor lineup, and the coveted Super Bowl spot, PepsiCo continues to demonstrate its commitment to its water portfolio.
The Coca-Cola Co.
A new 60-second Coca-Cola ad, titled "A Coke is a Coke," will air just before kickoff of this year's Big Game in Atlanta. Inspired by a 1975 quote by iconic pop artist Andy Warhol, the ad brings to life the idea that a Coke is for everyone with its closing line: "We all have different hearts and hands; heads holding various views. Don' you see? Different is beautiful. And, together is beautiful, too."
"A Coke is a Coke" is a playful ad with original animated characters like "Beans the Chef," "Freddy the Yeti" and "Abigail the Bird Girl" who remind viewers that Coke is for everyone and that it is beautiful to celebrate our differences. The ad is the latest chapter in The Coca-Cola Co.'s nearly 133-year history of standing for togetherness. It builds on similar messages from Big Game creative aired over the last five years — "It's Beautiful" and "The Wonder of Us" — and iconic ads from the 1960s and 1970s like "Boys on a Bench" and "Hilltop."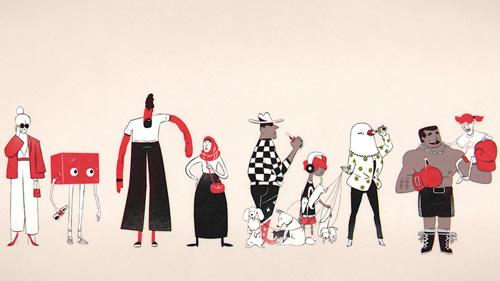 Wieden+Kennedy (Portland) is the ad agency behind the recent series of Big Game spots highlighting diversity and inclusion. "A Coke is a Coke" was created by Wieden+Kennedy and animated by Psyop.
Given that Sunday's Big Game will be played just blocks from where the very first Coca-Cola was served more than 130 years ago, The Coca-Cola Foundation is paying tribute to its hometown with a $1-million donation to Atlanta's National Center for Civil and Human Rights to allow free admission for more than 50,000 guests between now and the end of February.
In recent years, the company gifted land which allowed the creation of the National Center for Civil and Human Rights downtown.
Doritos
Doritos is heating up the Super Bowl ad scene with a 30-second commercial featuring a never-before-seen collaboration between hip-hop star Chance the Rapper and pop icons the Backstreet Boys.
The collaboration celebrates the new Doritos Flamin' Hot Nacho. In a hot twist on an original flavor, the Flamin' Hot Nacho flavor it store shelves nationwide and online in mid-January. The flavor offers a combination of the popular hot and spicy flavor of flamin' hot and the timeless flavor of original nacho cheese.
Doritos is a flagship brands from PepsiCo's Frito-Lay division.
M&M'S
This year's M&M'S Super Bowl ad will star Emmy award-winning actress Christina Applegate. Cteated by BBDO New York, the 30-second spot pulls viewers into the familiar scenario of a trip to the grocery store that quickly goes humorously wrong. Applegate embodies the frustrated errand runner who can't catch a break.
"The story was so relatable. Pair that with the opportunity to work with M&M'S and it was the right fit to take on my first Super Bowl ad," Applegate said. "We had fun and a lot of laughs creating this look at a situation so many of us have gone through, while bringing a bit of an unexpected twist to it. I think the audience is going to be entertained and a little surprised."
The M&M'S brand is part of the Mars Inc. portfolio.
Michelob ULTRA
Michelob ULTRA Super Bowl LIII commercial reinforces that while there's an abundance of artificial in the world, your beer is one thing that shouldn't be. With no artificial flavors or colors and only 95 calories and 2.6 carbs, Michelob ULTRA believes being human is about being fit and fun. In the 30-second commercial, the robots featured outperform humans at everything except one critical moment: enjoying a light beer.
The commercial also marks the beginning of a new partnership with award-winning Latin music superstar, Maluma, who makes a cameo in the commercial as part of his official Super Bowl debut.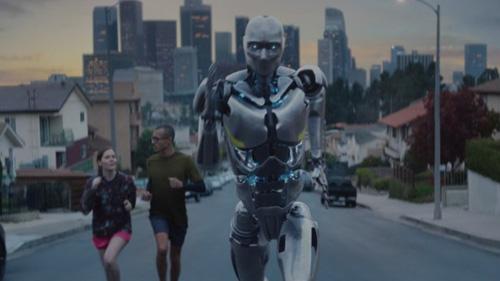 "Reminding people who are physically active and fans of beer that balance is possible has always been our mission, and we're excited to bring this message to the Super Bowl stage," said Azania Andrews, vice president of Michelob ULTRA. "As the fastest growing beer brand we believe we are the beer of this decade, and the next, and we can't wait to show America what we're up to this year, beginning with Super Bowl."
"Robots" marks Michelob ULTRA's fourth consecutive year in the Super Bowl. FCB Chicago is the lead creative agency for "Robots."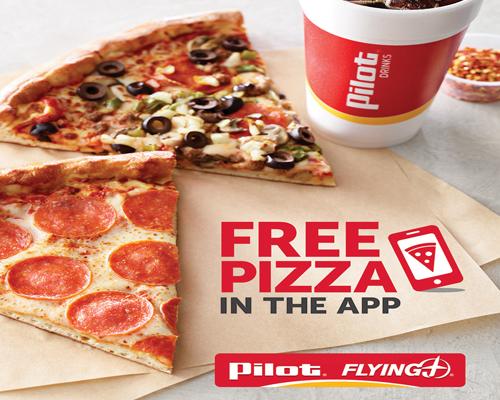 Pilot Flying J
With National Pizza Day, Feb. 9, coming on the heels of the Super Bowl LIII Pilot Flying J guests can get a free slice of pizza through a Pilot Flying J app offer from Feb. 3-10. First-time users receive an additional free drink of their choice when downloading the app.
All PJ Fresh Pizzas are baked fresh and available in an assortment of recipes. This offer even includes the limited-time offer Mega Meatball flavor.
Skittles
This year, instead of running a 30-second ad during the big game, Skittles is creating the first-ever commercial performed as a live Broadway musical.
"Skittles Commercial: The Broadway Musical" is written by playwright and Pulitzer finalist Will Eno in partnership with DDB Worldwide. The 17-member cast, led by a Michael C. Hall (best known for his starring role in Dexter), will perform the show one time only, in front of a live audience at The Town Hall in New York on Sunday, Feb. 3, at 1 p.m. EST. The show will also feature original songs backed by a live band.
"We're always looking for opportunities to innovate and entertain our fans in new ways around football's biggest stage," said Debbie Litow, brand director, SKITTLES. "And what better way to do that this year than by bringing our ad to the world's most famous stage: Broadway."
The Skittles brand is part of the Mars Inc. portfolio.
Tostitos
Tostitos looks to set the (unofficial) world record for the longest livestream of a tortilla chip bowl during Super Bowl LIII.
Tostitos will set the (unofficial) world record for the longest livestream of a tortilla chip bowl when the #TostitosLiveBowl will be broadcast around the globe for 53 straight hours live from the Tostitos Cantina at Super Bowl Live in Atlanta. The livestream will begin on Tostitos.com beginning at 1:29 p.m. on Feb.1.
At the Tostitos Cantina at Super Bowl Live in Atlanta fans will join former and current NFL players like Barry Sanders, Dak Prescott, Matt Ryan, Baker Mayfield, and Tony Gonzalez to show off their chip-and-dip skills.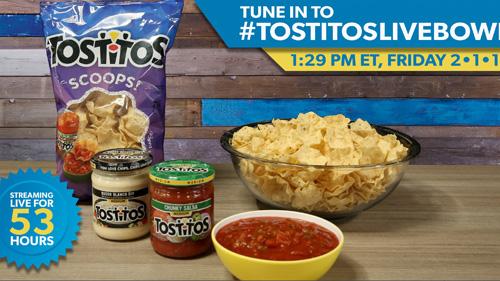 During #TostitosLiveBowl:
The bowl will be regularly refilled, and various Tostitos flavors can be requested by fans commenting on the livestream;

If Tostitos receives 53 comments (for Super Bowl 53) with the hashtag #TostitosLiveBowl, the Tostitos Queso Blanco will be added as a dipping accompaniment;

The 53rd person to comment using #TostitosLiveBowl will win a jar of Tostitos Queso Blanco; and

If Tostitos receives 53 million comments with the hashtag #TostitosLiveBowl, the 53-millionth commenter will win 53 bags of Tostitos.
Tostitos, a Frito-Lay North America brand, is the Official Chip & Dip of the Super Bowl.