Convenience Pioneer Bill Krause Passes Away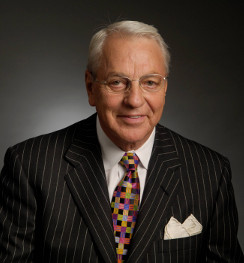 WEST DES MOINES, Iowa -- The convenience store industry lost a leader today. W. "Bill" Krause, co-founder of Kum & Go LC, passed away this morning at his home surrounded by family. He was 78.
Krause founded the locally based Kum & Go convenience store chain with partner and father-in-law Tony Gentle in Hampton, Iowa, in 1959. Today, the family-owned retailer has 423 stores across 11 states: Iowa, Arkansas, Colorado, Minnesota, Missouri, Montana, Nebraska, North Dakota, Oklahoma, South Dakota and Wyoming.
After 44 years of service, Krause retired from Kum & Go on Dec. 31, 2003. Three years later, in 2006, he was inducted into the Convenience Store News Hall of Fame. His son Kyle J. Krause now leads the company as president and CEO.
"Dad's influence in the industry, and with his associates and customers, built a strong foundation for the company that continues today," Kyle Krause said. "He had a huge passion for people, especially Kum & Go associates. His appreciation for people is a legacy we will continue to carry on every day."
Born and raised in Eldora, Iowa, Bill Krause graduated from the University of Iowa (UI) with a degree in journalism/public relations in 1957. His dedication to his alma mater never waned. He devoted his time and financial resources in support of the Henry B. Tippie College of Business, College of Liberal Arts and Sciences, Hancher Auditorium and the Iowa Opportunity Fund. He was a life member of the Kinnick Society, which recognizes the most generous annual contributors to UI athletics.
Krause almost never missed an Iowa home football game and he was named Hawk of the Year by the Department of Athletics in 1993. His passion for Iowa football resulted in the lead gift for Kinnick renovation and the naming of the Krause Family Plaza.
Krause was also well-known for his philanthropic efforts within the community. His support of Junior Achievement of Central Iowa will continue to empower and inspire young people through the W. A. Krause Center for Entrepreneurial Education. He received the St. Elizabeth Ann Seton Award from the National Catholic Educational Association for his support of Catholic schools in the Des Moines area. He was also a proud recipient of the Civitas Award, which is the highest honor bestowed within the Dowling Catholic community for individual dedication and service.
Additional honors include an Entrepreneurial Spirit Award from the Des Moines Business Record and designation as Iowa-Nebraska Entrepreneur of the Year by national accounting firm Ernst & Young. The U.S. Small Business Administration also honored Krause with the Iowa Entrepreneurial Success Award in 1994.
Krause's community commitment in his personal life carried over to his company, as Kum & Go was recognized by CSNews in 2010 with a Spirit Award for Community Outreach. Among Kum & Go's charitable efforts, the company returns at least 10 percent of its profits to the communities it serves each year.
"Dad was famous for the many heartfelt and touching letters he wrote to family, friends and Kum & Go associates," Kyle Krause recalled. "Many people have files of his letters they have kept throughout the years. He also was a very generous person to anyone in need, which is embodied in his dedication to philanthropic work. Dad leaves a legacy of 50-plus years devoted to a community commitment by sharing 10 percent of Kum & Go's profits with charitable and educational causes each year."
He is survived by his wife, Nancy; son Kevin W. (Mary) Krause of West Des Moines, Iowa; son Kyle J. (Sharon) Krause of Booneville, Iowa; daughter Kate (David) Prange of Chicago; and 12 grandchildren: Ryan, A.J., Tanner, Morgan, Elliott, Bo, Oliver, Emily, Ellen, Connor, Amelia and Maeve.
Memorial contributions may be directed to Dowling Catholic High School, Holy Family Catholic Schools and Above + Beyond Cancer.