03/11/2019
Convenience Retailing Becomes a Game of Grow or Go
The Full Ranking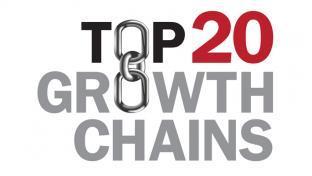 Big deals, small deals and midsize deals all combined to make for another very active year.
Other deals that grabbed headlines in the past year included: 7-Eleven Inc.'s purchase of nearly all of Sunoco LP's convenience stores — roughly 1,000 — propelling 7-Eleven to the No. 2 spot on this year's Top 20 Growth Chains ranking; Alimentation Couche-Tard Inc.'s purchase of Holiday Stationstores' 522 locations; GPM Investments LLC's purchase of E-Z Mart Stores Inc. and its 273 locations; and Giant Eagle Inc.'s purchase of Ricker Oil Co. and its 56 c-stores.
"We have witnessed two or three years of large and medium-size transactions being closed. This has been due to a relatively low interest rate environment and the newly enacted tax bill, which gave operators incentives to pursue acquisitions they may not have explored previously," noted Dennis Ruben, executive managing director of NRC Realty & Capital Advisors.
Furthermore, with purchase price multiples being at the highest level in years, many smaller and midsize operators are deciding to sell — meaning more deals to be had. These operators, realizing they can't compete with the big players, are opting instead to exit the business and take advantage of the sky-high prices being paid for companies, Ruben explained.
"As the big chains get bigger, it has become increasingly difficult for the smaller operators to compete with the larger players," he added. "…I believe we will continue to see a number of smaller and midsize operators putting their companies or portions of their portfolios up for sale in 2019."
Mark Radosevich, president of PetroActive Real Estate Services LLC — a firm that generally focuses on the traditional multi-generational marketer segment — said the way he sees it, the midsized chain owners who opted to exit the business this past year reached a point where their choices were either to: double-down and grow (and all that comes with that in terms of financing, operational scale and geographic expansion); or take advantage of the high consolidation appetite coupled with healthy valuation multiples.
"For many, the choice was clear: cash in their chips and move on to the next phase of their respective lives," he said.   
On the flip side, those midsized chains opting to stay in the convenience and fuel retailing business are realizing they need to grow their networks in order to stay competitive. In general, midsize chains have become more sophisticated operators, John C. Flippen Jr., managing director of Petroleum Capital & Real Estate LLC, told CSNews.
"Midsize companies understand that growth does not typically occur in a linear fashion and understand the substantial investments in people, time, money and technology that need to be made to become a much larger operator," observed Flippen.
Download our full report, "Saying Yes to Growth," by clicking below.