Corona Extra, Corona Light to Adopt New Packaging Designs in 2012
CHICAGO -- Crown Imports announced plans to change the primary and secondary packaging designs for Corona Extra and Corona Lights, starting in spring 2012. Bottles will retain their look, but color and graphic changes in the enhanced packaging will help differentiate the brands.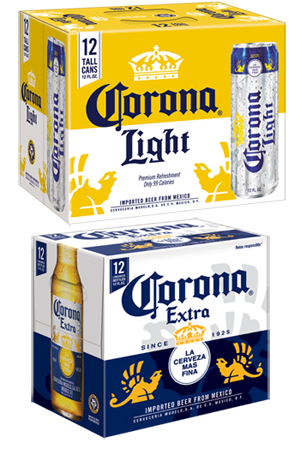 The change will mark the first time in Corona's history that the entire line of packaging has adopted new design elements, according to the company.
Corona Extra, the No. 1 import beer in the United States, will switch to a blue-and-white color palate, while Corona Light, the No. 1 U.S. imported light beer, will take on the brand's yellow-and-white color scheme. Both will feature bottle graphics on the side panels and include a SKU identifier in the top left corner. Corona Light will also feature the brand's crown design atop the logo. Additionally, the 12-pack secondary packaging for cans will resemble the secondary packaging for bottles, creating more brand uniformity.
"The new primary and secondary packaging design changes are subtle, but will make a positive impact at retail," said Jim Sabia, chief marketing officer of Crown Imports. "Corona is a beloved brand that embodies the mindset and lifestyle that consumers aspire to -- positive, relaxed, easygoing."
The Corona brand makes up more than 75 percent of Crown Imports' volume.