Couche-Tard Loses Casey's Shareholder Support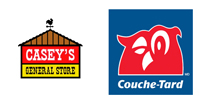 LAVAL, Quebec -- Alimentation Couche-Tard Inc.'s tender offer to acquire all outstanding common stock of Casey's General Stores Inc. lost support from shareholders as only 546,435 shares were tendered and not withdrawn pursuant to the offer as of the Aug. 30 expiration date.

Couche-Tard also extended the tender offer, which will now expire at 5 p.m. EST, Sept. 30, 2010, unless further extended, the Laval, Quebec-based company stated. All other terms and conditions of the extended offer remain unchanged.

The extension came on the morning of Couche-Tard's annual shareholders' meeting, where Couche-Tard admitted it has been tougher than expected.

"If I was a dating a girl with her first name being Casey, I would say that she is playing hard to get," Couche-Tard CEO Alain Bouchard told shareholders at the company's annual meeting, which was cited in a Canadian Press report.

In a news conference later, he added: "We knew that it would be complicated ... but it became a lot more severe than what we thought."

The shares tendered to Couche-Tard as of Aug. 30, include 76,105 shares subject to guarantees of delivery, and the total represents approximately 1.1 percent of the outstanding shares of Casey's, without giving effect to the recapitalization plan announced by Casey's, according to Couche-Tard.

When the $36.75-per-share offer was first extended July 12, Couche-Tard saw approximately 19.2 percent of Casey's shares tendered, with approximately 12 percent of shares tendered when the offer was again extended Aug. 2. During this time, Casey's completed its own $500 million self-tender offer that will see it purchase nearly 26 percent of its own shares for between $38 and $40 per share.

Responding to the extension, Casey's issued a statement, which said: "Given that Casey's is already creating more value than is reflected in the Couche-Tard offer and will deliver significant additional upside through execution of our business plan and strategic growth initiatives, we are not surprised that so few shares have tendered into Couche-Tard's inadequate, highly conditional $36.75 per share offer."

Industry analysts, meanwhile, said Couche-Tard's effort to acquire the Midwest convenience store retailer is looking more unlikely.

Irene Nattel of RBC Capital Markets told the Montreal Gazette CEO Alain Bouchard's tone about the takeover was "slightly less enthusiastic" during last week's quarterly results conference call than it had been in the past.

"At this point, with actions between the two sides becoming increasingly hostile and given the fundamental outlook for Casey's, we view a successful conclusion of this situation as somewhat unlikely," she wrote in a report cited by the paper.

Couche-Tard also is nominating a slate of directors to the Casey's General board, which will go up for election Sept. 23, during Casey's annual meeting.

Credit Suisse Securities (USA) LLC is acting as financial advisor to Couche-Tard and dealer manager for Couche-Tard's offer. Dewey & LeBoeuf LLP and Nyemaster, Goode, West, Hansell & O'Brien, P.C. are acting as legal counsel. Innisfree M&A Incorporated is acting as information agent for Couche-Tard's offer and proxy solicitor in connection with Couche-Tard's solicitation of proxies at the 2010 annual meeting of shareholders of Casey's.

Goldman, Sachs & Co. is acting as financial advisor to Casey's, and Cravath, Swaine & Moore LLP and Ahlers & Cooney, PC are providing legal advice.