07/06/2018
Court Delays FDA-Required Cigar Warning Labels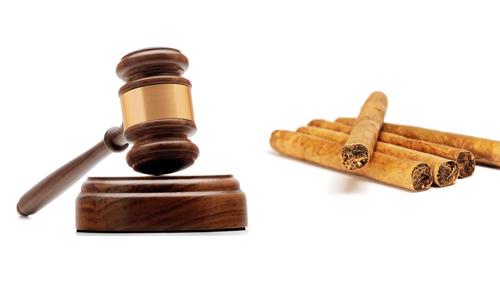 WASHINGTON, D.C. — Cigar warning labels, which were mandated by the Food and Drug Administration (FDA), are on hold for now.
On July 5, U.S. District Court Judge Amit Mehta issued a stay on cigar warning label regulations pending appeal, according to the Cigar Rights of America (CRA) — which said "what a piece of holiday weekend news" in announcing the ruling.
The regulation was set to kick in on Aug. 10.
According to halfwheel.com, Mehta ruled the FDA-required warning labels for cigar boxes and advertisements will be delayed until 60 days after an appeal has been decided by the U.S. Court of Appeals of for the Washington, D.C. circuit.
He specifically pointed to a recent ruling by the U.S. Supreme Court.
"The issues appealed by plaintiffs present 'serious legal questions' as to the constitutionality of FDA's warnings regime, a conclusion only reinforced by the Supreme Court's recent decision in National Institute of Family and Life Advocates v. Becerra," Mehta wrote.
Currently, no date has been set for a court to hear the appeal, according to the International Premium Cigar & Pipe Retailers (IPCPR).
The July 5 ruling came in connection with a lawsuit filed by the IPCPR, CRA and the Cigar Association of America. As Convenience Store News previously reported, the cigar industry groups asked the U.S. District Court in the District of Columbia for a declaratory injunction to "vacate, set aside and enjoin the enforcement of the final rule" in July 2016.
This spring, Mehta ruled against the IPCPR, CAA and CRA challenge. His decision upheld the deeming rule's requirements for warning labels and the payment of user fees. The judge did, however, strike down a requirement that would have required retailers who blend pipe tobacco to register as manufacturers and instructed FDA to re-evaluate the rule.
In turn, the groups appealed and asked the judge to prohibit the FDA's warning label requirements until a decision on the appeal is finalized, according to IPCPR.
In his most recent order, Mehta agreed. "In the end, this court believes that plaintiffs are entitled to a full hearing before an appellate court with the specter of a warnings regime going into effect," the judge wrote.
Scott Pearce, IPCPR executive director recognized this is a positive, albeit potentially temporary, development for retailers and the broader industry.
"This deadline has been bearing down on our members for some time now. And while this is a temporary reprieve, it is a welcome development and hopefully a sign that our message is resonating," Pearce said. "IPCPR is proud to be a party to this lawsuit, and we'll continue to work with our great legal team and staff in DC to bring about the optimum regulatory framework for the premium cigar industry."