Crave Steps Up Promotional Efforts at Circle K's Ohio Stores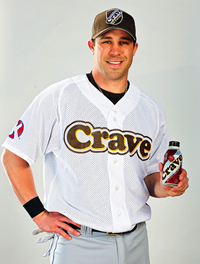 BUFFALO, N.Y. -- Upstate Niagara Cooperative Inc. hopes to hit a home run with its Crave chocolate milk drink, and is partnering with Alimentation Couche-Tard Inc.'s Circle K chain to promote the beverage.
The company signed Jason Kipnis, second baseman for the Cleveland Indians, as its new Crave spokesperson. Kipnis can be seen endorsing the drink on point-of-sale displays appearing at Circle K convenience stores throughout Ohio.
The 24-year-old, left-handed hitter, who slugged seven home runs in 36 games last year, will also promote Crave's "Second to None" sweepstakes, which will award one baseball team with a clinic to be hosted by Kipnis this summer.
According to Upstate Niagara, Crave is packaged in a cutting-edge Frost Flow milk bottle that chills fast and stays cold for a longer period of time vs. other milk products. In addition, the company says Crave can be stored at room temperature, as opposed to requiring refrigeration.
As an additional promotion, Crave will distribute "Player of the Game" certificates to local little leagues, who can, in turn, hand them out to worthy team players. The certificates will be coupons for free bottles of Crave and foodservice specials.
Kipnis will support all these efforts by appearing at select Circle K stores throughout the year. Circle K is a subsidiary of Alimentation Couche-Tard Inc.