CSNews Explores Tampa's Growing C-store Scene
TAMPA, Fla. -- Convenience stores are nothing new to the Tampa Bay area. Driving into the region, one spots several 7-Eleven and Kangaroo Express locations. RaceTrac Inc. has been ramping up its presence in the market as well, with newly constructed stores bringing its total to 11.
What is new in Tampa, however, is the c-store industry's renewed focus and interest in the market.
On Wednesday, Wawa Inc. welcomed consumers to its fifth c-store in the Tampa area with a grand-opening celebration at its newest location on U.S. Highway 19 in New Port Richey, Fla. However, anyone walking through the doors at the Wawa on Gandy Boulevard in Pinellas Park, Fla. -- just a few miles south -- would have easily mistaken the crowds there for a party.
One month since the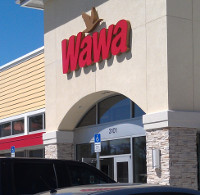 Gandy Boulevard store held its own celebration marking Wawa's entrance in the Tampa market, the buzz has yet to die down. As the clock struck 12:01 p.m., lunch-hour customers lined up at least three deep at each touchscreen ordering kiosk. And according to one employee, this was a slow time.
In fact, during the first couple of weeks, the store was reportedly busy around the clock, with customers streaming in even at 3 a.m. And they weren't just coming through the door. No sooner would one car pull away from the 20-pump forecourt then another would take its place.
"We are originally from Philadelphia, but have been down here for 18 years. We are so excited [Wawa] came here," said one local resident waiting to get her turn at a kiosk so she could order one of Wawa's signature hoagies.
While Wawa is the latest to move into this area, it is not alone. Thorntons Inc. came to town in December with its first area store on Gulf to Bay Boulevard in Clearwater, Fla. -- approximately 12 miles away from Wawa's Gandy Boulevard location.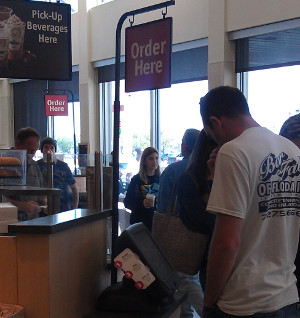 The 24-hour Thorntons convenience store offers a 16-pump forecourt. Inside, shoppers find clear, crisp signs and colors, a large fountain drink and foodservice area to the right, and a centrally located checkout. The store also boasts an impressive beer cave.
Though the c-store occupies a slightly smaller footprint than the Pinellas Park Wawa, it was no less busy with parking spots being prime real estate.
The Gulf to Bay Boulevard store not only has the distinction of being Thorntons' first store in Tampa, but also its first store in the Sunshine State. The company had originally planned to open is first Florida convenience store in the spring of 2013, but moved up its timetable. In total, the retailer expects to open 15 to 20 new stores in the Tampa-St. Petersburg-Clearwater area over the next three years.