CSNews Gets Advance Look Inside Duane Reade's New Flagship Store
NEW YORK -- Duane Reade's new flagship store opens here today, and while it may not be a direct competitor to convenience stores at 22,000 square feet, many of the innovative ideas it contains could be showing up soon in a Walgreens store near you.
CSNews Online got an advance look yesterday inside the new Duane Reade store, located at 40 Wall Street, near the home of the New York Stock Exchange. Open 24 hours a day, seven days a week, it is different from any other Duane Reade thanks to its Up Market sushi bar; hot coffee service; a juice bar manned by employees that serves smoothies; a touch-screen beverage machine that dispenses 120 flavors of Coca-Cola products; an outdoor seating area; and, as a nod to its expected weekday stock market customers, a stock ticker.
The store, which is in The Trump Building, replaces the drugstore retailer's previous flagship location, which was destroyed during the September 11 attacks.
"Before 9/11, our No. 1 store was in the financial district," said Joe Magnacca, president of both Duane Reade and Walgreens Everyday Living Solutions, who took CSNews Online on a grand tour of the store, considered humongous even by New York City standards.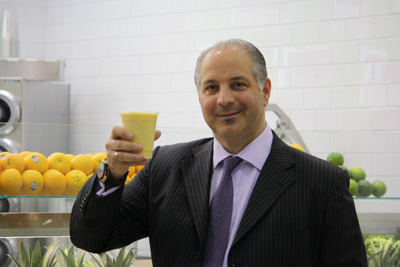 "We have been looking for a new flagship store site to replace our World Trade Center since the sad events. We are very pleased with our new location. We presented the concept to Mr. [Donald] Trump and he loved it. This is a very special store in a special building. This concept is worthy of his building. He embraced and endorsed the idea and only asked how quickly we could get it open."
Localization is a major focus for the new flagship store, according to Magnacca. The location caters to three groups of customers: those who work in the financial district, a growing population who now live in the area, and the strong tourist community. Therefore, customers will find the store stocked somewhat differently on weekends to cater specifically to tourists.
One of the ways the Duane Reade store caters to these visitors is by offering food made by a virtual "restaurant row" of local city hangouts. Zabar's sandwiches, Carnegie Deli brisket and Rosa Mexicana sauces are just three examples of featured food items.
"We look at this store as an opportunity to sell more products," Magnacca added. "We have a great [loyalty] program called Flex Rewards and can determine what's selling and not selling at our stores. We can also look at our in-stock position in stores and determine where there's potential to add more variety. For example, in the financial district area, we saw yogurt was selling very well, so it allowed us to add Greek yogurt to our product mix. Our research also determined that natural and organic products sell well, and we know gluten-free products sell well here. All of the information that helps us determine what to sell in our stores is derived [from] our loyalty data."
The new flagship store also represents the first time that Walgreens has been incorporated into a Duane Reade store. The Walgreen Co. acquired Duane Reade about a year and a half ago. Walgreens stores may soon incorporate many of the Duane Reade flagship store ideas.
"I believe you have to think of Duane Reade as an incubator for Walgreens," Magnacca said. "This is a learning store. As lessons are learned from this store, we will attach various things to our Walgreens stores. For example, Delish [our Duane Reade private label food brand] will be rolled out in Walgreens store this fall. We also look at it the other way and use everything we learn at Walgreens stores and apply [that] to Duane Reade."
Convenience is another major focus at the flagship store. Many c-store related items, such as newspapers from around the world, single-serve packaged items such as chips, and produce located both inside and outside of the cooler, are offered.
"We try to apply the convenience element of every product," Magnacca said. "We prefer not to sell a head of lettuce. We certainly will sell that, but we prefer to sell a bag of lettuce. We want to make it easier for New Yorkers, who tend to be in a rush and want things done easily."
Duane Reade's new flagship store, though, is by no means a competitor only to c-stores. It competes with other drugstores by having a physician on site. The store plans to provide staunch competition in the health and beauty category as well, as it features a hair salon where many services are performed, such as hair straightening. In addition, David Rockefeller's old office was turned into a nail salon where manicures and similar services are conducted.
"What we are doing in food, we're also doing in other areas," Magnacca told CSNews Online. "We even provide shoe shines, with all proceeds going to charity."
Virtual Reality
As part of its store tour yesterday, CSNews Online also got a special look at Duane Reade's use of Tensator's newest product, the Virtual Assistant. Tensator technology is used in several c-stores, including Sheetz and Quick Chek. However, the Virtual Assistant, housed near Duane Reade's checkout counter, is the first of its kind in North America.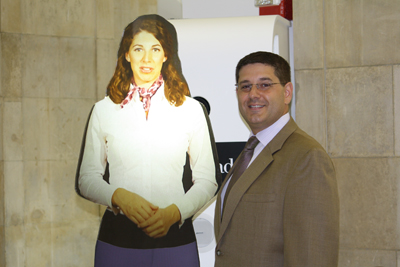 The product depicts a hologram of a woman talking about Duane Reade. "Nobody knows a guest [waiting on line] like we do," said Keith Carpentier, senior business development manager-retail for Tensator. "We partner with many companies like Hershey and Mars to create environments where impulse products will live. The waiting customer will then put one more item in their basket. It doesn't get any more simple and pure than that."
The Virtual Assistant has incredible "stopping" power, according to Carpentier. "People have been doing the proverbial 'double take' every time they walk by," he said.
Version 2.0 of the product, which is expected to be released in six to 12 months, will feature more interactive features, including the ability for customers to ask certain questions of the Virtual Assistant, such as what shelf a certain item is located on.
"That Virtual Assistant will have proximity sensors that can answer pre-loaded questions in several different languages," Carpentier said. "A lot of the questions asked by customers are similar. The Virtual Assistant allows employees to focus on other tasks."