CSNews Hall of Famer Erich Wendl Passes Away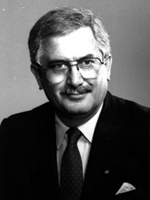 CORPUS CHRISTI, Texas -- In 1961, Erich Wendl helped form NACS, even serving as its president in 1979. Thirty-one years later, he was recognized for his role in the convenience store industry with an induction into the Convenience Store Industry Hall of Fame, sponsored by Convenience Store News. Sadly, Wendl passed away Monday at the age of 80.
"He has never been too busy to give to others of his time, service, talent -- and often monetarily as well," one veteran c-store operator said of Wendl at the time of his induction."He has the respect and love of many of us."
In accepting the award, Wendl, who founded Maverick Markets, thanked his family and the employees of his Corpus Christi, Texas-based chain, noting, "It is a tremendous honor to be selected for this award by my peers, but no one person builds a house alone."
Wendl was born in Munich, Germany, and raised in the grocery business. He continued that experience as an intern with H.E.B. in 1953, but never expected to make his stay in the United States permanent, according to NACS. Later that year, he met and married his wife, Elvira, eventually making south Texas his home after a tour of duty in the U.S. Army and becoming a naturalized U.S. citizen.
His journey down the convenience store path began in July 1961 when he purchased six Corpus Christi c-stores, formerly known as the Cabell Minit Markets. One month later, he joined with 13 other retailers to form NACS during an August 1961 meeting in Kansas City.
"Harley Riedel (president of Tampa, Fla.-based Pic Quick and who later became the 1964 NACS president), contacted me and said, 'Look, we're about to form, or we're talking about forming a trade association, a convenience store group. And maybe you should come and hear what we're trying to do and be part of it,' Wendl told NACS in 2001. "I went to the Hotel Muehlebach in Kansas City and you know the rest of the story."
As the decade drew to an end, Wendl had built up Maverick Market to a 35-store chain. He later grew the portfolio to 102 locations before selling to Coastal Market Inc., a subsidiary of Houston-based Coastal Corp., in 1995.
In addition to his work with NACS, Wendl was named "Retail Grocer of the Year" in 1975 by the National Association of Retail Grocers of the United States and served as president of the Texas Retail Grocers Association. He also counted president of the Corpus Christi Chamber of Commerce among his leadership positions.
"Erich's contributions to our association and our industry are immeasurable. He helped found and cultivate the association that today represents an industry that is an everyday part of our lives. He was a great visionary and leader, he was a great friend to many of us in the industry and he will be missed," said NACS President and CEO Hank Armour.
Wendl is survived by his wife, two children Barbara Pender and Carl Wendl; and four grandchildren Erich Wendl, Brittany Wendl, Rose Pender and Claire Pender.