CSNews Selected as Double Finalist for Top Journalism Awards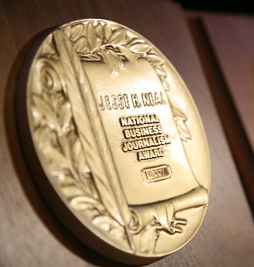 JERSEY CITY, N.J. -- Convenience Store News has been named a finalist in two categories -- Best Issue and Best Profile -- in American Business Media's 2013 Jesse H. Neal Awards competition. Often referred to as "the Pulitzer Prize of business media," the Neal Awards recognize editorial excellence in business media and are the industry's most prestigious and sought-after editorial honors.
The October 2012 issue of Convenience Store News is among just four finalists vying for top honors in the Best Issue category for publications with annual advertising revenues between $3 million and $7 million. The mammoth 200-plus-page issue featured a cover story on CSNews'' Retailer Innovator of the Year RaceTrac Petroleum; an in-depth series on the future of fuels in the petroleum retailing industry; several case studies on leading retailers such as Wawa Inc., Valero Corner Store and Cumberland Farms Inc.; category management features on tobacco, the cold vault, and candy and snacks; plus numerous other special reports and features.
In the Best Profile category, CSNews' August 2012 "A Day in the Life of Maverik Inc." cover story is one of four profiles that made the final cut. Editors from CSNews spent two days this past summer at Maverik's North Salt Lake City headquarters seeing how the company lives up to its motto, "Adventure's First Stop," through the eyes of nine employees. Now in its seventh year, CSNews'  "A Day in the Life" series provides readers with a look into the everyday challenges and successes of c-store industry people. These revealing reports show the dedication, hard work, smarts and skills needed to be successful in convenience retailing today.
In addition to CSNews' achievement, parent company Stagnito Media picked up a third finalist selection in the Neal Awards as well. Sister publication Progressive Grocer has been selected a finalist in the Best Commentary category for a series of columns by Editorial Director Meg Major.
The winners of the 2013 Neal Awards will be announced and honored during a luncheon in New York City on March 12.
CSNews has been recognized with more editorial awards for business journalism in the past six years than any other convenience industry publication. In 2008, the editorial staff took home the Jesse H. Neal National Journalism Award for Best Single Issue.