CST Brands Opens Largest Corner Store to Date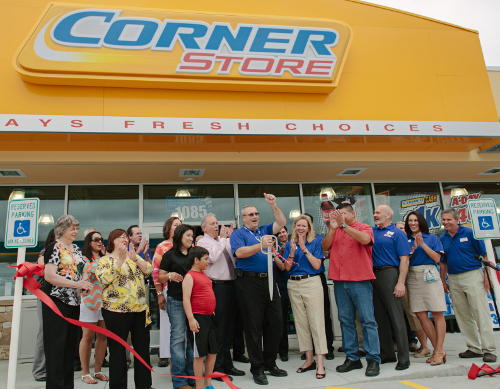 THREE RIVERS, Texas -- CST Brands Inc. hosted a grand-opening event today for its largest Corner Store to date, located here in an oil field community in the heart of the Eagle Ford Shale.
The 10,100-square-foot travel center features a Subway restaurant, indoor and outdoor dining, extra-large restrooms and a beer cave. At the pump, the Three Rivers Corner Store offers 10 gasoline dispensers and six high-speed diesel dispensers for flex-fuel vehicles.
According to Kim Bowers, president and CEO of CST Brands, the new travel center is a welcome pit stop for travelers venturing between San Antonio and Corpus Christi, as well as oil industry workers who can now fill up on food, drinks and gasoline.
"The demand for a store in this area is huge," said Bowers. "Oil field workers often come to Corner Store three times a day to grab kolaches and coffee for breakfast, a sandwich for lunch and a beverage on the way home. At CST, we are all about making people's lives easier."
The new store -- Corner Store's 627th in Texas and 1,033rd in the United States -- also offers whoopie pies, cookies, doughnuts, tortillas, fresh-cut fruit, sports drinks, ICEE, Cibolo Mountain Coffee and more.
Donald Hunt was named store manager of the Three Rivers Corner Store. He expects the travel center to create an additional 50 jobs for the region.
CST Brands Inc. was spun off from Valero Energy Corp. on May 1. In total, it operates approximately 1,900 locations when factoring in its Canadian division, Dēpanneur du Coin.
The Eagle Ford Shale is a sedimentary rock formation that is one of the most actively drilled locations in the U.S. for oil and gas.