Customer Experience Is Key to Convenience Retailing Success Today
Get great content like this right in your inbox.
Subscribe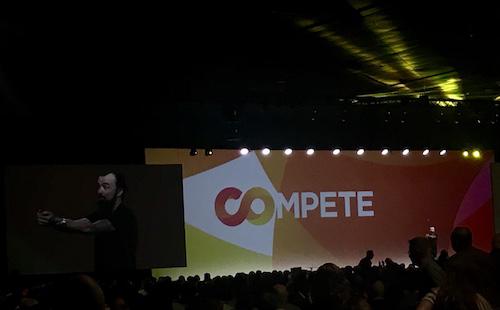 LAS VEGAS — Convenience store operators must always look to evolve in order to compete for the attention of their customers, which is getting harder to do, NACS Chairman Joe Sheetz said as he delivered the keynote address on the first full day of the 2018 NACS Show in Las Vegas. 
"We compete against everyone who sells convenience, and increasingly that seems like everyone," said Sheetz, president and CEO of convenience store chain Sheetz Inc.
To successfully compete with its many competitors, the Altoona, Pa.-based retailer focuses on three main areas that are representative of what it does best:
Fulfilling the immediate needs of convenience-demanding customers;
Making people's lives easier; and
Being dedicated to Sheetz employees and the communities that Sheetz serves.
The key to continuing success, according to Sheetz, is figuring out ways to disrupt from within, while keeping an eye on those also seeking to sell convenience, such as Dunkin', McDonald's and Starbucks.
"We need to focus on what we do best, not copy what everyone else is doing," Sheetz advised. "Who are our target customers? What motivates them?"
For Sheetz Inc., a big part of serving its target customers is ensuring that employees focus on giving them a total customer experience that they might not be able to find elsewhere — including through Amazon.
"We can give you an experience with an actual smiling face," said Sheetz, noting that at his company, "C" not only stands for "convenience," but also for "community" and "caring" for people.
As Sheetz departed the stage, he introduced Scott Stratten of Unmarketing, who echoed some of the NACS chairman's sentiments about focusing on customer experience.
Stratten, the author of a series of business books, including one titled "UnBranding," believes the customer experience can begin with how consumers perceive a brand's logo.
"It's not the logo; it's the story that the logo tells, and not the story you tell," said Stratten. "Branding is a simple concept. When you see a logo, we think of one of the most recent experiences we've had or we've heard about. Or the most extreme experience we've had or heard about."
Using a positive example of this at work, Stratten displayed the Ritz Carlton logo. For him, that logo tells the story of a lost stuffed animal that was returned to his friend's child free of charge. Not only that, but Ritz Carlton staff took pictures of the stuffed animal on its extended stay lounging by the pool, getting a spa day and more.
Stratten learned about this display of above-and-beyond customer service after his friend shared it on Facebook and now, Stratten shares this story with audiences as he speaks around the world. As a result, thousands and thousands of people are associating Ritz Carlton with this heart-warming story.
"If you want to improve the bottom line, improve the front line," said Stratten. "The Ritz story didn't cost any money, but it was a front desk clerk and a laundry room worker who got the brand this marketing reach. Those with the most touchpoints to your customers have the biggest brand impact."
The 2018 NACS Show is taking place Oct. 7-10 at the Las Vegas Convention Center.