Dollar General Opens 15,000th Store in North Carolina
Get great content like this right in your inbox.
Subscribe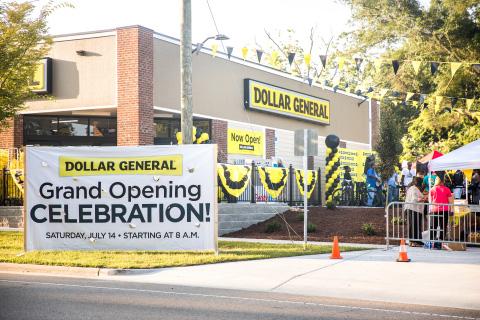 WILMINGTON, N.C. — Dollar General held the grand opening of its 15,000th store on July 14 in Wilmington.
The event included a community celebration and a $15,000-donation to five local schools in support of literacy and education initiatives.
"Opening our 15,000th store is a major milestone for Dollar General," said Todd Vasos, CEO of Dollar General and a native of Wilmington. "Since our humble beginnings in Scottsville, Ky., almost 80 years ago, we have become one of the fastest-growing retailers in the U.S., created tens of thousands of jobs and grown into a trusted partner for countless communities in 44 states, including 800 store locations in North Carolina.
"As we have grown, we have remained committed to our mission of Serving Others by delivering value and convenience to our customers in each of the communities we serve. I am grateful for the efforts of more than 130,000 employees who work hard every day to help meet the needs of our customers," Vasos said.
The grand opening event kicked off with remarks from Dollar General executives and Wilmington Mayor Bill Saffo. Afterward, five area schools were each awarded $3,000: Lake Forest Academy, Mary W. Howe Pre-K Center, Sunset Park Elementary, Williston Middle School and International School at Gregory.
"Congratulations to Dollar General on the opening of their 15,000th store!" Saffo said. "The City of Wilmington is honored to be the site of this milestone, and we know this store will be a fine addition to the neighborhood."
The first 500 adult customers at the opening received $10 gift cards and tote bags that contained a variety of complimentary products. Customers could also enjoy breakfast, lunch and a selection of Clover Valley private brand snack samples in the afternoon.
Multiple Dollar General vendor partners participated in the festivities by providing giveaways and entertainment throughout the day.
Goodlettsville, Tenn.-based Dollar General employs more than 130,000 people through 15,000 retail stores and 15 distribution centers in 44 states.