05/02/2018
Doobie Brothers Musician Encourages Out-of-the-Box Thinking at 2018 Conexxus Conference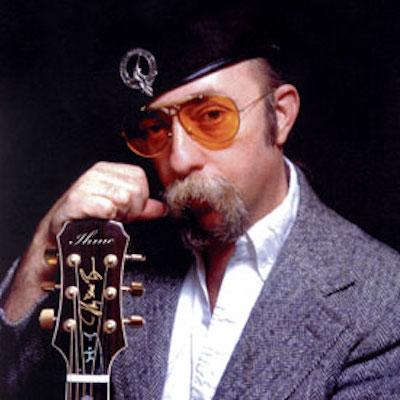 CHICAGO — Jeffrey "Skunk" Baxter is best known for jamming on the guitar for the Doobie Brothers but, in more recent years, he's become a well-regarded national security expert, using insights gleaned from his music career to provide outside-the-box thinking.
It's that sort of thinking that Baxter encouraged convenience store retailers to embrace during his keynote address at the 2018 Conexxus Annual Conference.
A self-taught military technology and missile defense expert, Baxter wrote a paper on the subject that he shared with a congressman, who in turn shared the paper with the Pentagon. Soon, Baxter found himself employed as a consultant to the Department of Defense with high-level security clearances in the Pentagon, advising top military and civilian groups on, among other things, next-generation technologies and unconventional strategies.
Providing an explanation for his aptitude on the subject of missiles, Baxter said, "I know a lot about space, man. I was in the Doobie Brothers. I've spent a lot of time in space."
On a more serious note, he referenced the music analysis that jazz musicians do when they play over a theme, giving it their own unique spin. He has sought to take that same theory of improvisational jazz and bring it to intelligence analysts.
Musicians, like athletes, "think in a nonlinear fashion," which enables them to problem-solve more efficiently, Baxter pointed out. 
The keynote speaker also discussed the great respect he has for Lt. Col. John Boyd, who popularized the OODA (Observe, Orient, Decide, Act) Loop. Boyd used this methodology to figure out what air combat was really about and to improve its efficacy during the Korean War and Vietnam War.
By combining both unconventional thinking and the OODA Loop, Baxter said he found success as a national security expert.
He once brought actor Dan Aykroyd to the White House to teach analysts about role-playing. With another military strategist, Baxter recruited an engineer who had fallen on hard times. When it was discovered that the man was living in the ceiling above the lab, a blind eye was turned in service of solving the problem at hand.
"Solving the problem is always more important [than the rules]," said Baxter.
During his address, he also talked about the good that can come from war gaming, and how one learns that diplomacy and war are the same thing in different states — like ice, water and steam. He gave a shoutout to Winston Churchill and how he saved the western world despite making numerous missteps. 
Baxter pointed to diversity as one of America's greatest advantages.
At the end of his speech, he opened up the floor for questions, with a couple of caveats: "No questions about classified info, and I'm not taking any questions about Barbra Streisand."
Baxter advised the convenience store retailers in attendance to "show there's another answer to the solution" and "find people who are like-minded" when they want to generate ideas from people who might be prone to confirmation biases.
He also suggested c-store retailers get their employees into new environments and situations, like a company softball game.
When it comes to facing financial losses when introducing new technology into a business, Baxter pointed to his aforementioned belief that art and science are intertwined. For instance, you can't build a bridge without the application of both.
Not only is there art in the technology itself, according to Baxter, but there's an art to the negotiation of its prices.
The 2018 Conexxus Annual Conference is taking place April 30-May 3 at the Loews Chicago O'Hare hotel.