Dos Equis Unmasks 2013 Masquerade Program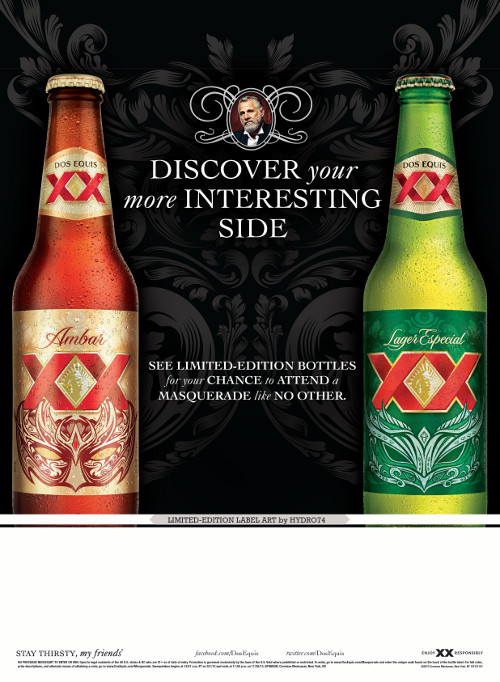 NEW YORK -- Dos Equis is unveiling the details of its Masquerade marketing campaign, which begins on Sept. 1.
The campaign, timed to launch with this fall's entertaining season, urges adult consumers 21 and older to kick their Halloween celebrations up a notch while inviting them to win a trip to the Ultimate Masquerade Party in Miami.
At retail, limited edition Masquerade packaging and compelling offers will help increase sales of Dos Equis Lager, Dos Equis Ambar and other Halloween-related items, driving higher register rings, according to the beer company.
"Halloween has become a favorite occasion for adult consumers. More than 60 percent of those 21 to 24 years old will either throw or attend a Halloween party," said Gwendolyn Boyce, brand director for Dos Equis, Heineken USA. "Halloween spending is on the rise and is expected to outpace 2012 by over 10 percent, resulting in sales of over $8 billion, an estimated $80 per person.
"October is also a key selling month for Dos Equis with both Lager and Ambar growing at double-digit rates and driving a 20 percent lift. [The] Dos Equis Masquerade program is designed to connect the lure of Halloween with the popularity of Dos Equis and offer our trade partners a clever new way to provide added value to both their customers and their bottom line."
In the spirit of the masquerade, Dos Equis will be featuring its own mask with unique packaging, including limited edition bottle labels with unique codes. Consumers can enter the codes at www.DosEquis.com/Masquerade for the chance to win a trip to Dos Equis' Ultimate Masquerade Party. Participating shoppers can increase their chances of winning every time they enter their codes found on the limited edition bottle labels, designed by acclaimed artist Hydro74.
Retail activation, led by point-of-sale featuring the limited edition bottles, will encourage shoppers to grab a pack to enter the Masquerade Sweepstakes. The campaign will also feature cross merchandising offers with other brands.
Dos Equis Masquerade program will run Sept. 1 through Oct. 31.