Drake's Cakes to Return in September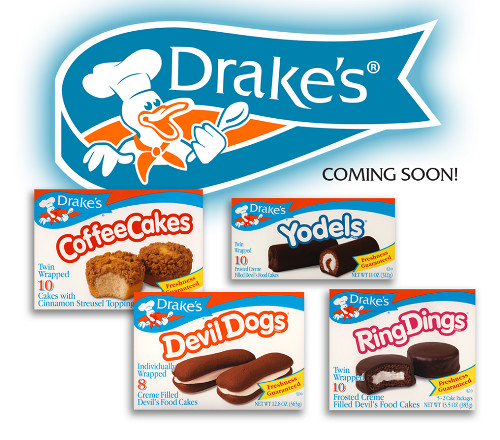 COLLEGEDALE, Tenn. -- Right on the heels of Twinkies, the Drake's snack cake brand will be returning to store shelves along with such treats as Ring Dings, Coffee Cakes, Yodels and Devil Dogs.
McKee Foods Corp., Drake's new parent company, plans to bring back the snack cakes in the third week of September, according to a report by the Associated Press.
As CSNews Online previously reported in March, McKee Foods, also the maker of the Little Debbie's brand, agreed to pay $27.5 million for Drake's cakes following Hostess Brands' 2012 filing for Chapter 11 bankruptcy protection.
Collegedale, Tenn.-based McKee Foods makes snack cakes such as Devil Cremes and Swiss Rolls that directly compete with Hostess products. Company spokesman Mike Gloekler told the AP that the company doesn't have plans to phase out any of its products yet. However, the supplier has not decided whether Drake's Funny Bones will remain in the lineup.
In addition, McKee Foods will use its own plants to make Drake's, but will not make changes to the actual cakes. Distribution for Drake's cakes will remain in the same Northeast markets where they were previously sold, and while marketing campaigns are planned for New York City and metropolitan areas, the return will not be trumpeted to the level of Twinkies.
"Our Drake's rollout will not be as splashy as the Hostess return," Gloekler stated in an e-mail to the news outlet.