Eby-Expo Goes A to Z in Foodservice
Get great content like this right in your inbox.
Subscribe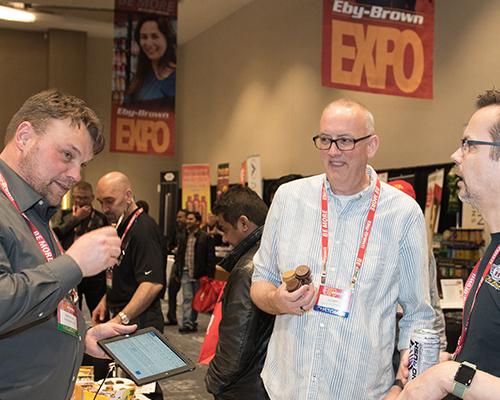 CLEVELAND — Convenience distributor Eby-Brown Co. LLC is once again focusing on foodservice at its annual Eby-Expo trade shows in 2018, with a goal of serving as a one-stop shop for convenience store retailers who want to launch or enhance a prepared food program that sets them apart from local competition.
Eby-Brown expanded Eby-Expo from two to three regional shows this year to better accommodate its customers.
At Eby-Expo East, held March 20-21 in Cleveland, highlights on the show floor included the distributor's component programs for pizza and doughnuts, which allow retailers to customize what they offer to consumers.
Instead of offering a specific branded program, Eby-Brown is offering c-store retailers the concept of a program, according to Sharon Kuncl, vice president of merchandising, foodservice strategy.
"We're giving our customers options," Kuncl told Convenience Store News at the Cleveland show, describing how an operator can select from different options, such as types of crust, toppings and sauce flavor profiles, for the pizza they want to sell. For example, a retailer could choose a thick red sauce, a thinner sauce with olive oil, or a sauce with a stronger basil flavor as a standard ingredient in their program.
By customizing the program, retailers can make a strategic choice to be different from their closest competitor that also has a pizza program.
"We're showing them the best of the best, and they're deciding how they can make it in their stores," Kuncl said.
Eby-Brown offers a standard "Hot Fresh Pizza" marketing kit, but retailers can easily customize the program with their own name and logo, too.
In a similar initiative for its doughnut offering, Eby-Brown is partnering with Rich's Foodservice to help retailers build a doughnut concept that has customizable icing and topping options. Mathew Mandeltort, vice president of foodservice strategy for Eby-Brown, demonstrated various doughnut concepts at the Cleveland event.
Retailers can create their own doughnut designs and highlight them in a bakery case with LED lighting, making them true players in doughnuts, instead of having premade pastries delivered daily.
"The sky's the limit for creativity," Kuncl said, comparing the concept to Voodoo Doughnut, a Portland-based chain of shops that is renowned for its unique and creative doughnut designs.
For both the pizza and doughnut programs, Eby-Brown provides a full operations manual that covers everything from employee hygiene to setting up a refrigerated assembly area. It's also built a point-of-sale system so that retailers can work with Eby-Brown as a one-stop shop for their program needs.
"We tried to put a program out there that's A to Z for the [retail] customer," Kuncl said.
In addition to its customizable prepared food offerings, Eby-Expo showed off two new additions to its Wakefield Sandwich Co. line that the company expects to have a positive reception:
A chorizo and egg on a corn biscuit sandwich is designed to be authentic and natural, appealing to both Hispanic and millennial consumers. It is also the first Wakefield item to have a bilingual description on the front label. 

A first-in-market veggie patty sandwich that is both vegan and certified gluten-free. Prepared in a separate gluten-free facility, the sandwich is cooked in its packaging and handed to the customer sealed to ensure no cross-contamination.
"Is 'Bubba' ready for gluten free? Maybe. Maybe not. But we also cater to a lot of different customers," said Andy Batt, vice president of Wakefield Sandwich Co.