Ethnic Convenience Store Associations Make Their Mark
NATIONAL REPORT -- Ethnic convenience store associations have exhibited dramatic growth over the past several years, and much more expansion is expected in the near future, according to sources interviewed by CSNews Online.
The main question is, Why is all of this growth happening now?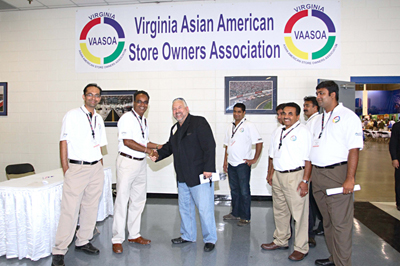 The answer is simple, said Minesh Patel, chairman of the Virginia Asian American Store Owners Association. "We formulated our association in 2010 so independent retailers could get a better deal from vendors," he said. "Mom-and-pop stores simply don't get the same price a chain store gets; that makes it hard to compete. So our state, along with Florida and New Jersey, decided to start our own associations."
Patel has owned Ram's of Virginia Inc. for 21 years, and is operator of several Ram Petroleum independent c-stores. Creating a buying group is close to his heart. "I've talked to vendors and asked for the same price chains get on particular products. They often ask me how many stores I own. If I say 10, vendors tell me it's not enough. I need to own more stores."
Thanks to the Virginia association, owning one store is enough to be part of a large buying group.
Vipul Patel (not related to Minesh), executive director of the Florida Asian American Store Owners Association, based in Melbourne, Fla., formed his association for similar reasons. And the same can be said for Preshant Desai, president of the New Jersey group, called the Asian American Retailers Association (AARA), which was founded in 2005.
"We noticed how much our industry was changing," Desai said, as to why he founded the AARA six years ago. "We are now talking to many [major food and beverage] vendors to see who will support our group."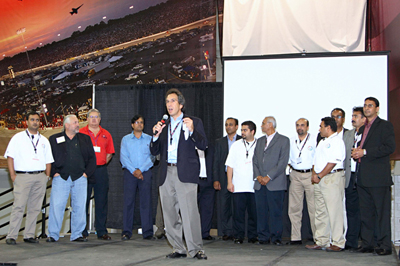 Desai noted that the AARA began a tradeshow so vendors can bring their products directly to independent retailers. "We had 125 vendors at our show [in September]," he said. "We are happy to help retailers by making deals with manufacturers, wholesalers and distributors. Our show was very successful. This year, more than 2,000 retailers attended."
Now that their respective buying groups have been formed, the associations plan to take their efforts to the next level. Websites are being formulated and updated so the associations can offer advice to their constituencies. "By July of next year, we hope to have a very good website where anyone can post any issue they have [at their stores]," said Virginia's Minesh Patel.
Vipul Patel, of the Florida association, also said they are not just a buying group. "We want to share good ideas with everyone. In this economy, that is especially important to do," he said.
In New Jersey, Desai said the association provides education for its 1,500 members, which includes c-stores and liquor stores in New Jersey, and so much more. "For example, there are so many new products that come out. But many of the manufacturers don't have the resources or manpower to get that information to every c-store. That's where we come in," he explained. "We want give back to the community. We want to show the retailers how they can be more profitable at their stores. We want to show them how to compete with larger chains and franchises."
Another way these ethnic associations plan to take it to the next level is through expansion. According to Vipul Patel, several discussions have taken place in an effort to form Asian American convenience store associations in Maryland, North Carolina and Illinois.
Desai added that he is in discussions with c-store retailers hoping to begin Asian American associations in New York, Connecticut, Pennsylvania and Delaware.
Although the buying groups are referred to as Asian American store associations, all three of the regional associations CSNews Online interviewed stressed that an individual does not need to be of Indian or Asian descent to join the group. People of other ethnic backgrounds are free to join the groups as well. "Our goal is simply to help the store owners," said Minesh Patel.
The only requirements for membership in these associations are that a person is an independent store owner and has not joined another association seeking similar goals.
A National Effort
The Asian American Convenience Store Association (AACSA) is different in some aspects. First, the group is not directly correlated to the others mentioned in this story. Also, the association, formed in 2004, represents the whole country and accepts all convenience store owners, whether they are independent or part of a large chain, said President Satya Shaw.
He did point out one similarity, though. AACSA is a buying group, like the regional groups.
Shaw, a certified public accountant by trade, helped form a consortium of Indian doctors in 1982 and a group of Indian hotel owners in 1989. Noticing there was no similar association for convenience store owners, he created AACSA. "In 2004, we created the group to unite our store owners. We wanted our group to have power," Shaw said.
AACSA is gearing up for its seventh trade show that will take place tomorrow, Nov. 19, at the India Cultural Center in Tampa, Fla., where the group is based. Vendors serve as exhibitors and retailers attend. "The exhibit booths are sold out," Shaw reported. "We expect 1,200 to attend."
The AASCA Convention will provide more than buying opportunities for c-store owners. Speakers will present sessions on a host of topics, including ways to reduce property taxes and how to get more rebates on products. The show will shift to Chicago in November 2012.
Besides creating a buying and educational group, Shaw said AACSA also wanted power in regards to what it believes is unjust national legislation. Currently, AACSA is targeting possible legislation aimed at discouraging consumers from purchasing full-calorie sodas.
"We plan to protest that," said Shaw. "The soda tax could be five to 10 cents [per bottle], similar to legislation in France. If the price goes up, convenience store retailers sell less soda."
AACSA also teamed up with NACS in the effort to reduce debit card swipe fees. Shaw said one of the keys to success for the ethnic associations is working closely with the trade organization.
Vipul Patal, of Florida, agreed. "NACS supports the efforts of Asian American associations," he said. "NACS' vice president of member services, Michael Davis, is very positive and very supportive. Whenever we need any guidance or support, he's there to provide it."
Davis told CSNews Online that NACS always wants to work with state associations or any form of convenience store or petroleum retailers. "They represent the fastest-growing segment of our retail industry," he noted. "With the tremendous consolidation that has gone on in the industry, a great opportunity has been created over the past five or 10 years for independent retailers to get into the business. It doesn't matter what ethnicity they are or where they are from, these new store owners are in our channel and we support the channel."
Considering the success that these Asian American convenience store associations have shown thus far, it's easy to wonder why there aren't more associations throughout the United States. The c-store-rich states of Texas and California are primary examples.
"It's funny you mention that," said Desai. "I spoke to someone recently who wanted to start an association in California. He asked how to start one. I think many people don't start their own association because of the time, money and effort involved. When you own c-stores, it's hard to also take your time out to start a group. But I think you're seeing these groups start now because people realize more and more how beneficial it is to start an association."
In addition to the Asian American associations, Davis said there are other groups with similar missions, including several Muslim groups. 7-Eleven also has its Franchise Owners Association and Arco has a dealer group, for example.
"Wherever you see a large concentration of convenience stores, you see groups forming," Davis said. "It's not like they are not out there. But some of them are just getting started or are still getting organized. You'll start to see a lot more of these groups forming."
There are 90,000 independent convenience stores in the United States now. That number is up a lot compared to 10 years ago, when there were only 60,000. "So if I'm a supplier, I need to talk to independent operators to grow my brand," Davis continued. "If you want to sell, you need to get in front of the audiences. Those audiences are becoming ethnic-American trade groups."
Membership in the Asian American associations is free. Revenue is derived from trade shows or other events. All organizations mentioned in this story also have annual conventions.
For more information about the Asian American Convenience Store Association, visit www.aacsa.org. To check out the Virginia Asian American Convenience Store Association, go to www.vaasoa.com; the New Jersey association at www.aarausa.com; and the Florida Asian American Store Owners Association at www.aasoa.com.