Exploring Foodservice From Every Angle
SPRINGDALE, Ark. – Convenience store retailers from across the nation came together to share insights, ask questions and explore the evolution of foodservice within the c-store industry at the 2013 Convenience Store News Foodservice Summit, presented in partnership with Tyson Foods. The second annual event, hosted at Tyson's Discovery Center in northwest Arkansas, featured market research into shopping habits divided by daypart, a live consumer focus group and retailer group discussions on the rise of snacking, the definition of value and more.
The goal of this event is to advance the convenience industry's knowledge and sophistication in the prepared food category. As one retailer at the Summit declared, "Foodservice has become an economic imperative for the convenience industry in light of declines in traditional categories like cigarettes."
Summit attendees included representatives from 7-Eleven Inc., Kum & Go LC, Rutter's Farm Stores, RaceTrac Petroleum Inc., Speedway LLC, Thorntons Inc., Kwik Trip Inc. and other chains.
Presenters included Mario Valdovinos, corporate chef and director of culinary insights for Tyson Foods, who discussed opportunities in the dinner daypart, flavor trends and "the end of cheap food as we know it"; Eric Le Blanc, vice president of marketing, convenience foodservice and deli for Tyson, who broke down core consumer segments in a convenience foodservice shopper account analysis; and Tyson Foods Chief Operating Officer Jim Lochner who explored short- and long-term drivers that affect protein supply and demand.
The 2012 price jump in corn, caused partially by drought, will have an effect on protein prices due to resulting increased feed costs, according to Lochner. Like last year, the calf crop is especially low.
In terms of trends, Lochner also noted that "the demand for bacon has gone off the charts."
During the group discussions, retailers expressed awareness of the opportunity to grow sales in the dinner daypart, but cautioned that making the meal time a success for convenience stores will take long-term effort, possibly as many as five to 10 years. "The balance will be found in offering the right products, at the right price, the right way," said the representative of one chain that has been changing up its foodservice offerings in recent months.
Consumer percept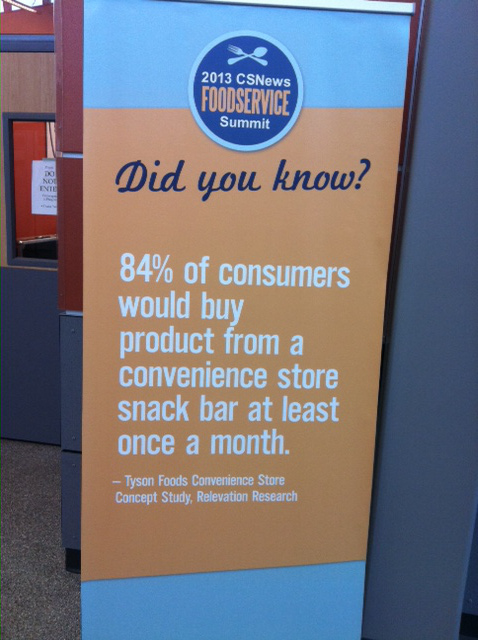 ion and credibility are important factors as well, as many consumers do not currently think of c-store food as a viable dinner option. C-stores should remain flexible in this area. As another retailer noted, "One person's breakfast is another's dinner and vice versa."
Breakfast is a stronger short-term focus for most Summit attendees. The retailers reported finding success with or having plans to experiment with adding premium sandwiches, more high-quality ingredients, limited-time offers and healthier items such as fruit cups, which give a more positive impression of the less-healthy products around them.
Giving customers the option to customize their selections at breakfast and other times of the day has also yielded positive results and surprising combinations. "When you see what they will add to food, it's just astounding," said one retailer.
Participants also discussed what they're doing to drive the lunch business and snacking. A number of chains are trying out items made with pretzel buns or croissants. Some are also working to develop their pizza business through single-slice or whole-pie sales. One chain reported great success with a trial program offering $1 slices on Wednesdays, which resulted in a sharp volume spike and considerable engagement on both the consumer and employee sides.
When it comes to snacking, yogurt has proven to be a "huge thing" for one retailer, who also reported seeing more mid- to late-morning snacks purchased by customers who skip traditional breakfast but need something to keep them going until lunch. Warmed cookies also have a following at one c-store chain, although the shelf life of the item is reduced from a day to a few hours.
In addition, during the Summit, David Mills of the Mills Consulting Group led 10 consumers with experience purchasing prepared food from grocery and c-stores through a focus group discussion on what they do and don't want from their ideal convenience store. Cleanliness, healthy options and in-store seating were listed as positives, while limited checkout options, visible tattoos or piercings on employees, and products that serve as reminders that the location also contains a gas station were cited as negatives.
"Make it feel like a market," said one member of the focus group.
For in-depth coverage of the CSNews Foodservice Summit, look in the May issue of Convenience Store News.