Fazoli's Opens First Travel Plaza Location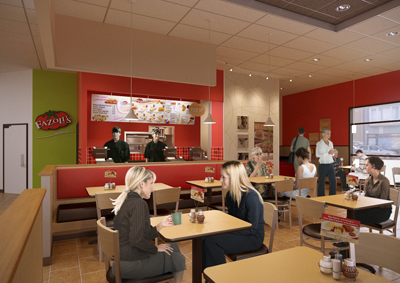 LEXINGTON, Ky. -- Fazoli's opened its first travel plaza unit this month at an interstate exit near Fairmont, W. Va. The premium Italian quick-service restaurant chain will open two more travel plaza locations in Ohio and West Virginia with franchisee Par Mar Stores, a division of Par Mar Oil Co., within the next two years.
Fazoli's President and CEO Carl T. Howard said travel centers offer a major growth opportunity for the company, and noted that larger national brands are saturated in most travel plazas. "We're the best-in-class option for travel plazas in many cases," he said.
"Travel centers are changing, and consumers are using them differently. They are not just off the freeway anymore, as more petroleum owners are expanding their locations, both freeway and intercity, to include retail and foodservice," Howard added.
Fazoli's first 1,800-square-foot travel plaza location seats 38 and offers dine-in, carry-out and drive-thru services. Fazoli's full menu is available, including an array of pastas and lasagna, face flatbread Piada sandwiches, Submarinos and more.
Par Mar Stores is looking into the possibility of adding Fazoli's units at some of its other 50 travel centers, according to company President and CEO Sandra Morgenstern. Fazoli's also has a three-unit development agreement in place with travel center operator New Whiteland, Ind.-based CCreations LLC, with its first location schedule to open in the Indianapolis market later this year.
"Travelers are looking for an option that is similar to a full-service experience that is not a diner," Howard stated. "For the local guests, Fazoli's offers a 'one-stop-shop' where you can get your gas and a great home meal replacement option."