Fazoli's Plans First Travel Center/C-store Unit
LEXINGTON, Ky. -- Fazoli's, the nation's largest quick-service Italian chain, is about to open its first unit in a travel center at an interstate exit near Fairmont, W. Va., with Par Mar Stores.
Par Mar Stores, a division of Par Mar Oil Co., has agreed to open this first Fazoli's location and two more units at other travel centers in undetermined locations in West Virginia and Ohio within the next two years. Par Mar is also researching the possibility of opening additional Fazoli's units after that in more of its 50 travel centers, according to Sandra Morgenstern, Par Mar president and chief operating officer.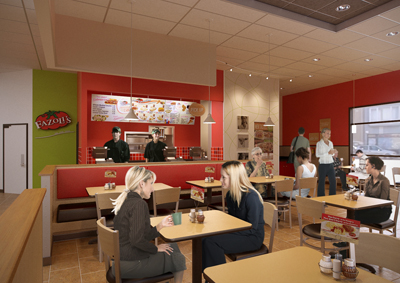 The initial unit will be about 1,500 square feet and have seating for dining in. Customers in a hurry can use either carryout or drive-thru services. The restaurant will be equipped to serve a steady stream of customers all day long, including heavy hits from tour buses.
In addition to its ParMar deal, Fazoli's also has a three-unit development agreement with another travel center operator, CCreations LLC of New Whiteland, Ind. The first of its location will open before the end of this year in the Indianapolis market.
The presence of Fazoli's, a strong regional brand for almost 25 years, is expected to be a good alternative to the national brands typically found in travel centers. The menu offers a wide variety of freshly prepared entrees and other dishes.
Fazoli's will offer its full, fast, fresh Italian menu. Signature items include an array of pastas and lasagna, Chicken Parmigano, fresh chopped salads, pizza, open-face flatbread Piada sandwiches, Submarinos -- oven-baked sandwiches on ciabatta bread -- desserts, and a new line of pastas and flatbread pizzas under 500 calories. Additional choices are kids meals, family-sized portions and sampler platters.
Founded in 1988, Fazoli's now numbers more than 217 restaurants and is expanding in selected markets around the United States. Sun Capital Partners, a private investment firm with several restaurant and retail properties, including the VPS Convenience Store Group, acquired Fazoli's in 2006.