03/15/2018
FDA Commissioner Reveals Next Steps in New Tobacco & Nicotine Regulation Approach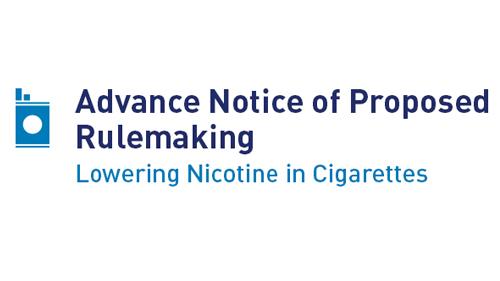 SILVER SPRING, Md. — The Food and Drug Administration (FDA) is moving forward with its plan to turn its regulatory focus to nicotine.
On Thursday, the agency issued its advance notice of proposed rulemaking (ANPRM) to explore lowering nicotine in cigarettes "to minimally or non-addictive levels," according to FDA Commissioner Scott Gottlieb.
The ANPRM, which will be published in the Federal Register on March 16, comes eight months after the agency unveiled a new approach to tobacco regulation — placing nicotine in the center of the plan, as CSNews Online previously reported.
"This new regulatory step advances a comprehensive policy framework that we believe could help avoid millions of tobacco-related deaths across the country," Gottlieb explained.
According to the commissioner, the ANPRM provides a wide-ranging review of the current scientific understanding about the role nicotine plays in creating or sustaining addiction to cigarettes and seeks comments on key areas, as well as additional research and data for public review.
The FDA is seeking public input on such questions as:
What potential maximum nicotine level would be appropriate for the protection of public health?

Should a product standard be implemented all at once or gradually?

What unintended consequences — such as the potential for illicit trade or for addicted smokers to compensate for lower nicotine by smoking more — might occur as a result?
"As we explore this novel approach to reducing the death and disease from combustible cigarettes, it's critical that our policies reflect the latest science and is informed by the input we receive from our meetings with stakeholders, comments to the open public docket and future opportunities for comment," he said.
As the commissioner explained, a potential nicotine product standard for cigarettes is the cornerstone of the agency's approach; however, the FDA continues to push forward on additional pieces of the multi-year plan designed to work in concert to better protect youth and significantly reduce tobacco-related disease and death.
"We said from the outset that ours was a comprehensive approach that requires us to pursue all of its parts in tandem," Gottlieb added.
"For example, our plan demonstrates a greater awareness that nicotine, while highly addictive, is delivered through products on a continuum of risk, and that in order to successfully address cigarette addiction, we must make it possible for current adult smokers who still seek nicotine to get it from alternative and less harmful sources," he explained.
The FDA also plans shortly to issue two additional ANPRMs. One will seek comment on the role that flavors — including menthol — play in initiation, use and cessation of tobacco products. A second ANPRM will solicit additional comments and data related to the regulation of premium cigars.
The agency also plans to re-evaluate and modernize its approach to the development and regulation of nicotine replacement products such as nicotine gums, patches and lozenges.
In addition, the FDA plans to issue a series of foundational rules and guidance documents that will delineate key requirements of the regulatory process, such as the demonstration of substantial equivalence and the submission of applications for new tobacco products.
"We believe this unprecedented approach to nicotine and tobacco regulation not only makes sense, but also offers us the best opportunity for achieving significant, meaningful public health gain," Gottlieb said. "As we move forward with these efforts, we have an opportunity to more formally solicit feedback, and we'll continue to foster a public dialogue to re-shape our country's relationship with nicotine and seek public input on policies that will guide us toward a healthier future."