02/22/2018
Foodservice Key to Growing C-store Visits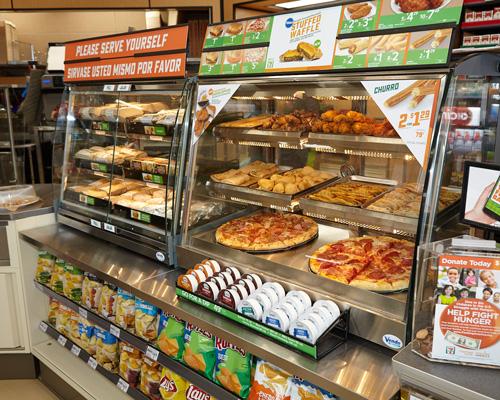 NEW YORK — If convenience stores want to grow, they will need to increase their share of the foodservice market, including adding healthier options, according to a new consumer survey released today by global consulting firm AlixPartners.
According to the survey, foodservice (prepared food and hot, cold and frozen dispensed beverages) is the No. 1 reason consumers shop at c-stores for in-store merchandise (excluding motor fuel), with monthly store-dining frequency jumping 13 percent over the past five years, compared to flat growth for many restaurant formats.
However, to continue that growth, c-stores need to move beyond the 52.9 percent of people who visit late at night or for snacks and compete more for breakfast, lunch and dinner business, says Eric Dzwonczyk, global co-head of the Restaurant, Hospitality and Leisure Practice at AlixPartners.
To drive more consumer visits, c-stores need to offer additional healthier options. Almost half of consumers surveyed (45.6 percent) said "better-for-you" options are important to them.
In addition, c-stores face a big challenge on the horizon in the form of Amazon Go, Amazon's new cashierless store concept. More than 43 percent of survey respondents said if an Amazon Go opened nearby, they would shop less at traditional c-stores.
The survey was conducted online between Aug. 9 and Aug. 14, 2017 among 1,019 adult U.S. consumers across all regions, demographics and income levels.
Other important findings from the survey include:
About four in 10 respondents (42.6 percent) said snacking is their most common c-store meal, well ahead of other important dayparts: breakfast (14 percent), lunch (21.1 percent), dinner (12 percent), and late night (10.3 percent).

The most-important technologies per c-store selection: mobile loyalty programs, self-checkout, and mobile coupons.

Millennials (63.1 percent) and Generation X (61.3 percent), in particular, view loyalty programs as "important" or "very important" to them.

About 70 percent of survey respondents are interested in delivery from c-stores; 46 percent would prefer to order directly and 37.6 percent would prefer to schedule deliveries in advance.