On the Forefront
The convenience channel is defined by two things: convenience and customer service. While other retailers are content with the status quo — if it isn't broken, why fix it? — Waycross, Ga.-based Flash Foods has found a way to take the two into the 21st century with a strong focus on technology.
"We are the people who want to do things. We may not always get it right, right out of the chute, but we would rather be out there working on it as we go than talking about doing it," explained Phil Settle, director of marketing at Flash Foods. "It is a conscious effort to be on the forefront and I think we have done an excellent job of doing that. In this day and age, I think if you are not on the leading edge of all kinds of technology, you are going to be left in the dust."
Helping lead the convenience store retailer to the forefront of retail technology are Jenny Bullard, chief information officer, and Jeannie Amerson, loyalty and advertising manager. These two executives, though, could not do it without the support of the company's leaders Jimmy and Patrick Jones — the sons of founder J.C. Jones Jr. — and longtime president Jimmy Walker.
"Fortunately, our leaders who head up the company today give us the support when it comes to technology and they are very much onboard with it," said Bullard. "They understand the impact it has on the company and on the bottom line."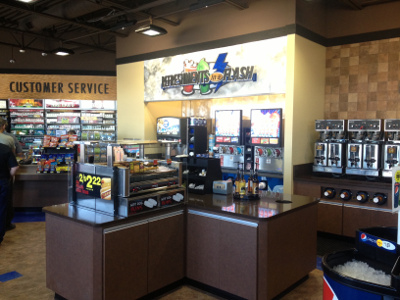 Taking Stock

Embracing technology encompasses everything from back-office operations to mobile payments, and Flash Foods is doing it all.
For example, the c-store retailer is one of few in the industry at item-level cost inventory, Bullard said, adding that the company knows the cost and quantity of every Snickers bar in every store. That, she noted, allows Flash Foods to do computer-assisted ordering not only for its internal warehouse and distribution center, but also for its direct-to-store vendors such as beer and soft drink wholesalers.
"Inventory management is a godsend not only at the store level, but it impacts the warehouse, too. You have to order [product] and have it shipped out to the stores. It's made everything more effective," Settle said.
In addition, it is much more accurate than traditional accounting in convenience stores and on the order side, it basically eliminates out-of-stocks on the items that are turning.
"When we implemented this, we found that we were understocked on the stuff that did turn and overstocked on the stuff that didn't. Over the years, it has helped us recover millions of dollars of dead inventory," Settle added.
The switch was a culture change for retail operations. However, with more than 3,000 items in a convenience store, you have to know how much is there and what you are selling to order properly. And there is no way you can do that manually, he said.
Sweet Rewards

Flash Foods also turned to technology to ramp up its loyalty programs. More than 10 years ago, the Rewards in a Flash program launched as a traditional punch card with some email marketing. The retailer also offered a loyalty program through tobacco company R.J. Reynolds Inc., which proved popular among its customers and pushed Flash Foods toward a specific direction for its own program, according to Amerson.
The c-store retailer partnered with Pinnacle Corp., which was already its back-office system provider. Now with its loyalty program, Flash Foods is able to look at store sales specifically on purchases through Pinnacle's Enterprise Performance Management tool.
"I am able to look at my loyalty customer and compare a loyalty customer against a non-loyalty customer: what they are buying, conduct market research and really pinpoint their habits," Amerson said. "The two systems coexisting are instrumental in being able to gauge the success of our loyalty program."
What started out as a loyalty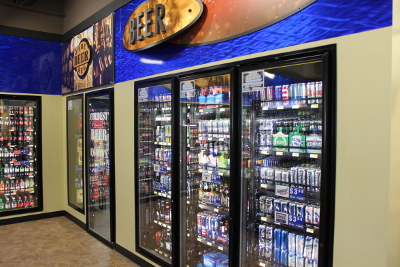 program developed around purchases and a fuel discount evolved to include a payment solution in 2008 and a total revamp in 2010. Today, Flash Foods counts more than 500,000 active loyalty customers and more than 40,000 that participate in the loyalty card's payment solution, which is an automatic clearing house transaction (ACH), thus eliminating interchange fees.
"We set a goal years ago that we wanted a third of all transactions captured using the loyalty data and now we are up to about 40 percent [of inside transactions, excluding gas]," Settle said. "That's a true 40 percent and I am extremely proud of it."
Customers at Flash Foods can take advantage of two loyalty programs: Rewards in a Flash, which is its traditional loyalty program, and GOBLUE, which is an upgrade of the loyalty program with the payment solution tied to it. The two have separate cards so employees can easily spot a customer paying with the GOBLUE card.
"The incentive for customers is they get discounts on fuel and it doubles as a loyalty card. The advantage for us is that they will be loyal to Flash Foods because that card only works at our locations," Amerson explained.
GOBLUE customers enjoy all the benefits of Rewards in a Flash: 2-percent cash back; the ability to check balances; entry into the retailer's fountain clubs, frozen clubs and coffee clubs; and instant promotions for carrying the card. In addition, they get the payment feature and instant fuel discounts.
"These are the two things that have made a difference: the item-level inventory and our loyalty program," Settle said. "To do that as an organization, you need to have the buy-in starting with the CEO all the way through the organization. Everything we do relates back to those two things at this point."
There's an App for That

Flash Foods is taking retail tech a step further with the launch of a mobile app. The app will be one of the "very few that have a payment side," Bullard explained. Flash Foods deployed the payment feature within the app with "family and friends" first and was set to introduce it to its customers in September.
A mobile app has been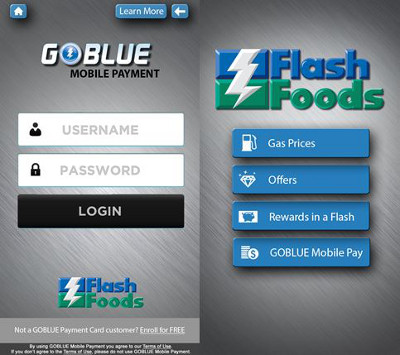 on Flash Foods' radar several years. However, the retailer could not find a solution that had everything it wanted to do within the app. "Instead of putting one out that we weren't completely happy with, we set it aside for a while," Amerson said.
Now, the time is right. The company's ACH card partner, National Payment Card Association, partnered with Pinnacle, its point-of-sale and loyalty application provider, to create the mobile payment solution that is within the proprietary app.
"In addition to the payment feature, our new app will allow customers to view their loyalty status, review gas prices at specific locations, get coupons and see current promotions," said Amerson. "Everything that is on our website will be available on the mobile app, with the addition of gas prices, a location search and payment feature."
Using the app will be just like using the GOBLUE card at its stores. Within the app, users go to the home page and hit GOBLUE Mobile Pay, get a seven-digit code and enter that code into the PIN pad at the pump or inside to pay for the purchase instantly.
That's Not All

Technology also comes into play in Flash Foods' human resources practices. The retailer partnered with PeopleMatter, a talent management solution firm, and implemented its online employee application. Flash Foods also uses the Charleston, S.C.-based firm's onboarding module that imports new employee information into the chain's payroll application, and electronically processes and stores employee information.
"This has helped us to greatly reduce our turnover and improve our processes," Bullard said.
Not surprisingly, the c-store operator has a strong presence on social media as well. Flash Foods has been active on Facebook and Twitter for the past two years and its social media efforts are constantly evolving, Amerson said.
"We are really proud of the customer base we have on both. It's great to have a million fans, but if they are not shopping at Flash Foods then it doesn't really do us any good," Bullard explained. "We value our customers' opinion and feedback, and this is a forum for us to get this information and react to it."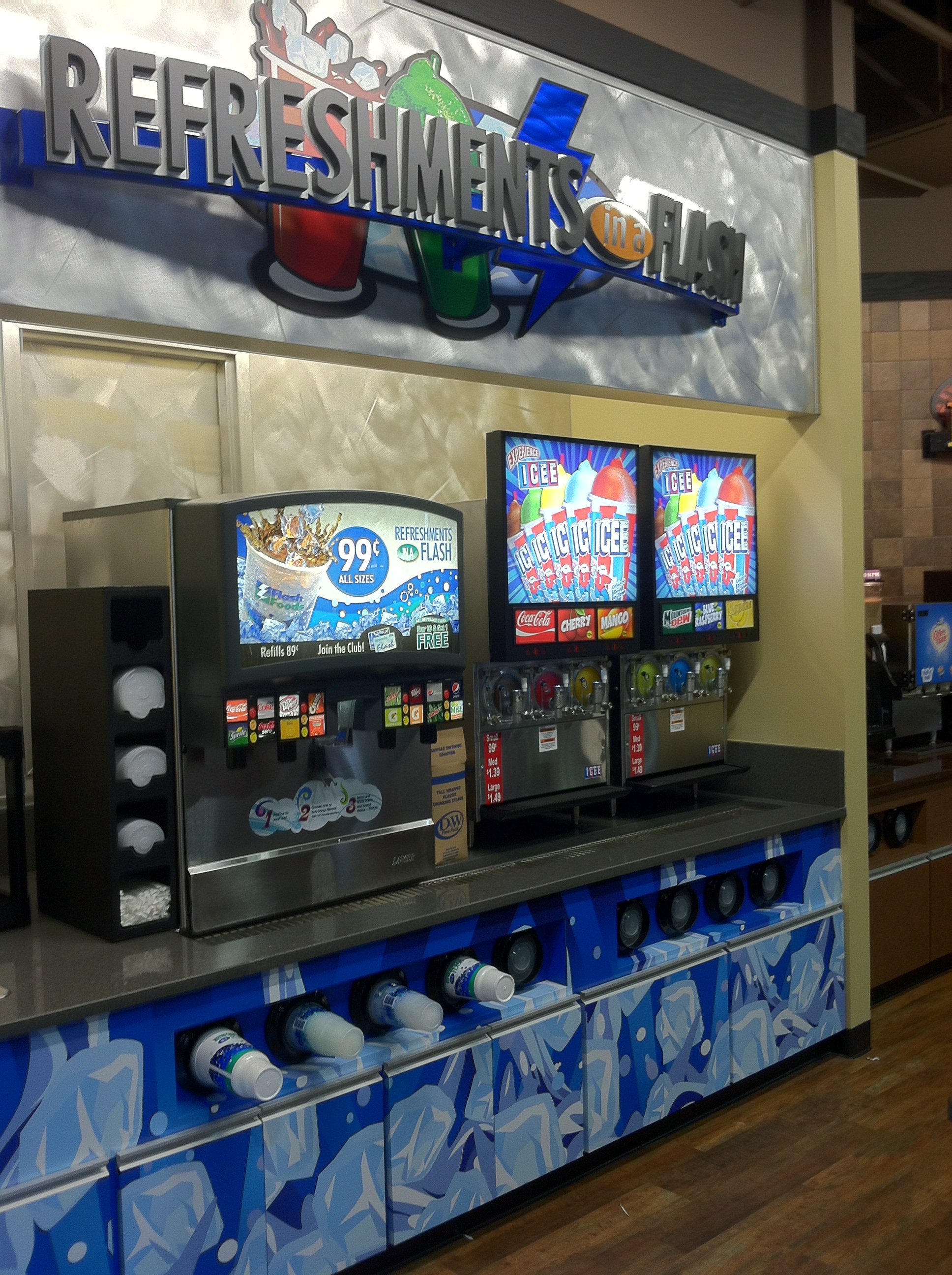 Retail at Heart

Flash Foods has come a long way from its humble beginnings as a small grocery store in Folkston, Ga. That store, operated by J.C. Jones Jr. and his father, J.C. Jones Sr., was just the first step in the journey to the chain's current 172-store portfolio. Today, its parent company The Jones Co. includes not only Flash Foods, but also a distribution warehouse, Distribution South; a petroleum company, Fuel South; and an auto dealership, Walker Jones.
The majority of Flash Foods' convenience stores can be found across Georgia, with 16 locations in Florida. All of the stores, which are company owned, offer gasoline and 21 have a branded food offering such as Taco Bell, Dairy Queen, Subway or Krystal. Flash Foods operates 22 locations in the Atlanta market, the site of the 2013 NACS Show.
While the company still builds new locations, it is currently investing in its existing portfolio with raze and rebuilds, according to Settle. "Right now, the mindset is a mixture [of rebuilds and new builds]," he said. "We are looking at two to four new builds a year, while the focus is on remodels, and raze and rebuilds."
The Flash Foods prototype is ever evolving and the size of each store changes depending on the location, with restaurant stores occupying a larger footprint.
The retailer is also mixing in new materials to extend the lifespan of its holdings as its construction projects move forward, Settle noted. "In the newer stores, we are using a lot of different materials that tend to hold up better than what we used in the past," he said. "We are getting tired of remodeling. We are using solidsurface countertops, different flooring, digital lighting. We are already seeing that the changes hold up better under heavy use."
The newer stores also dedicate more space to foodservice. Flash Foods offers the traditional roller grill items, nachos and a Southern favorite, boiled peanuts. However, it is beginning to add open-air coolers stocked with packaged sandwiches sourced from both its direct-to-store delivery and the Great American Deli sandwich line. The chain is also updating its frozen, fountain and coffee drink sections.
"The beverage and foodservice is more of a feature area in our newer prototypes," Amerson said. "We are dedicating more space to that in our stores, making it more of a focus point when you walk in than in the past."
Settle added that the retailer is testing some prepared food items, but for now, Flash Foods operates more of a grab-and-go foodservice program.