Former Pantry Exec Joins MACS as SVP of Store Ops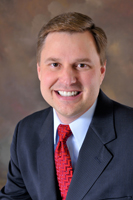 RICHMOND, Va. -- Brad Williams, a former executive with The Pantry Inc., is joining the leadership team of Mid-Atlantic Convenience Stores (MACS), one of the largest ExxonMobil fuel distributors in the Mid-Atlantic region. The appointment was announced today.
Williams will serve as senior vice president of store operations, overseeing and fostering growth across MACS' entire retail portfolio, including all retail store operations, loss prevention, safety, risk management, maintenance and facilities. In addition, he will focus his energies on driving market opportunities, generating top-line revenues and profitability at the retailer's stores, and supporting future growth opportunities, according to the company.
"Brad is a visionary strategist and a results-oriented leader who knows how to build strong teams and motivate those he leads to exceed expectations," said Dan Pastor, CEO of MACS. "We believe Brad's talent for driving store-level execution will greatly benefit our company."
Williams commented, "To have the opportunity to lead retail strategy at MACS is very exciting for me. I look forward to being a part of the continued growth and success of MACS, which promises to be an industry leader."
Williams most recently served as senior vice president of operations at The Pantry, the nation's third-largest convenience store chain. He was responsible for the company's four operating divisions, consisting of more than 1,650 company-operated convenience stores across 13 states. Williams was instrumental in developing go-to-market strategies and executing annual business plans. While at The Pantry, he managed the integration of several acquisitions and now brings strong expertise to MACS, the company noted.
As CSNews Online previously reported, Williams stepped down from his role at The Pantry on June 1. He joined the chain in 1988, taking on the SVP title in 2008.
Williams has also held positions in merchandising and marketing at additional c-store chains, including E-Z Serve Convenience Stores Inc. and ConocoPhillips, contributing to his nearly 20 years of proven success in the petroleum, foodservice and convenience store industries.
In addition, he's served on various councils and industry advisory boards, and currently serves on the NACS/Coca-Cola Retailing Research Council. He earned his bachelor's degree in Business Administration from Texas Christian University in Fort Worth, Texas.
Based in Richmond, Mid-Atlantic Convenience Stores has a network of approximately 300 company-owned and dealer locations in Maryland and Virginia, in addition to its wholesale fuel distribution network.