Former Whole Foods Co-CEO Says C-stores Shouldn't Underestimate Amazon Threat
Get great content like this right in your inbox.
Subscribe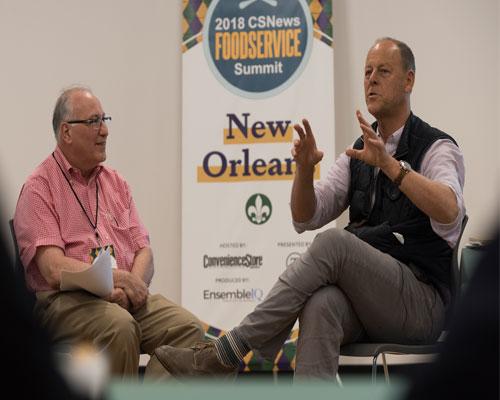 NEW ORLEANS — Amazon is going to be a force to be reckoned with, including its Amazon Go cashierless concept, former Whole Foods Market co-CEO Walter Robb told attendees of the recent 2018 Convenience Store News Foodservice Summit.
The event, held April 18-19 in New Orleans, wrapped up with an inspiring and insightful conversation with Robb, who in his post-Whole Foods career strives to provide accessible, healthy products to consumers across the country. Amazon acquired Whole Foods for approximately $13.7 billion in August 2017.
The Foodservice Summit — now in its seventh year and held in partnership with Tyson Convenience — is designed to foster innovation and inspire growth in fresh foodservice in the convenience store industry. The theme of the 2018 event was "Doing Good With Good Food." The two-day educational and experiential agenda focused on the role of food in a community.
Participants in this year's event included top foodservice executives from such leading c-store chains as 7-Eleven Inc., BP/ampm, Circle K Stores Inc., Country Fair Inc., Kum & Go LC, Kwik Trip Inc., Maverik Inc., RaceTrac Petroleum Inc., Rutter's, Sheetz Inc., and Wawa Inc. 
During a Q&A session led by CSNews Editorial Director Don Longo, Robb pointed out to the group that Amazon's Prime home delivery service has been a "smashing success," which means it is only going to expand more rapidly. He cautioned the c-store execs not to underestimate the threat.
"Don't let Amazon Go get ahead of you. Don't put yourself in the position where you have to play catchup," he advised. "Your capacity for change ensures your survival."
Robb spoke about a wide variety of topics, including what the Amazon-Whole Foods merger will mean for the food retailing industry, the growing issue of food waste, the importance of having a digital strategy, and the food trends that will have the greatest impact on retailers.
"Whole Foods was created to bring healthier food to the world," Robb told the group, explaining that the chain set a new standard for quality in the food industry by committing from the very beginning to only selling products with no artificial flavors, colors or preservatives.
Whole Foods' message to consumers was:
Better for you;

Better for your families; and

Better for the planet.
"Do you know your customers? Are you collecting data on them and using that data to market to them?" Robb asked the retailers. "Your company culture is told through stories."
With trips down across retail, the former chief executive said retailers have to go to other channels to find growth — delivery, pickup, online, etc. "Go to the store" is not the future, according to Robb. Instead, he believes the future is home delivery in the form of a "Whole Foods Fridge" and a "Wawa Fridge" and so on.
 Three other key takeaways from Robb's speech were:
Local is bigger than organic now.

He spoke about how Whole Foods created a position in each of its 12 operating divisions focused solely on finding local products in that market.

If you're looking for growth, look to the perimeter.

Center-store is being hollowed out as consumers are buying less of those categories. Growth lies in the perimeter categories.

Plant-based food is not a passing fad. "We're on the edge of times when people are saying, "I'm going to eat meat one less time a week,'" he said. Plant-based food is not a trend, it's a shift that's starting now, and it is going to have staying power.