Fourth Generation of Krause Family Joins Kum & Go Leadership Team
Get great content like this right in your inbox.
Subscribe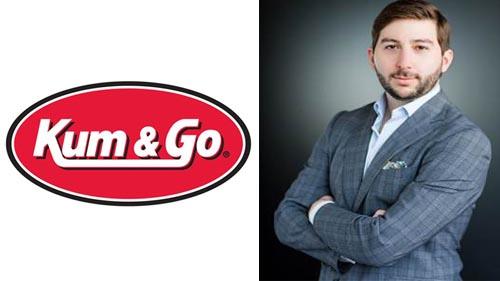 WEST DES MOINES, Iowa — Kyle Krause, CEO & president, is handing Kum & Go LC's leadership baton to the next generation.
On June 1, Tanner Krause will take on the title of president. A member of the fourth generation of the family-owned convenience store chain, Tanner Krause will oversee marketing, operations and human resources functions for the company.
His father, Kyle Krause, will transition to chairman and CEO.
"Tanner has a passion for our associates and an intimate understanding of the company having grown up working in Kum & Go stores and being a part of the family business," Kyle Krause said. "I'm excited for the energy he brings as we write the next chapter in our company's 60-year history."
Like many in the family-oriented convenience channel, Tanner Krause began his career at Kum & Go at 9 years old, helping to stock shelves, sweep floors and ring up customers, and continued working in the c-stores through high school.
While in college, he completed internships in both the real estate, and business insights and analysis departments at Kum & Go. After graduating from Loyola University Chicago, he spent time in the E&J Gallo Winery Management Development Program, working at Wirtz Beverage Group in Chicago, and Empire Merchants in New York, serving in sales representative and district manager roles, respectively.
He rejoined Kum & Go as a district supervisor in the Des Moines area for a year before returning to school to obtain his Master's in Business Administration from DePaul University in Chicago. 
In 2016, Tanner Krause became director of operations at Kum & Go, helping lead operational excellence for nearly 5,000 store associates.
In 2017, he took on a human resources role when he was promoted to senior vice president, grow people where he implemented a number of new benefits for associates, including expanded personal time off; maternity, parental and adoption leave policies; as well as an associate food and drink discount program.
He recently sponsored a major employment brand effort, as well as a comprehensive standardized training system for Kum & Go store general managers.
"This is an important step in my lifelong journey to make Kum & Go a fantastic place to work and shop," Tanner Krause said. "It is an incredible honor to follow in the footsteps of my father, grandfather and great grandfather, and I'm looking forward to continuing to deliver more than our associates, customers and communities expect."
In addition to his work at Kum & Go, Tanner serves on the board of the Boys & Girls Club of Central Iowa. 
For nearly 60 years, West Des Moines-based Kum & Go has been dedicated to the communities it serves, sharing 10 percent of its profits with charitable causes. Established in Hampton, Iowa, in 1959, the chain has since grown to employ more than 5,000 associates in more than 400 stores in 11 states: Iowa, Arkansas, Colorado, Minnesota, Missouri, Montana, Nebraska, North Dakota, Oklahoma, South Dakota and Wyoming.