Fresh & Easy Adds To Healthy Product Line Up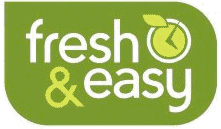 EL SEGUNDO, Calif. -- Fresh & Easy Neighborhood Market is helping its customers keep their New Year's resolution to eat right and save money with its expanded eatwell product line. The retail chain, with locations in California, Arizona and Nevada, is adding at least 11 new items to its offerings.
Introduced last year, all eatwell products contain no more than 25 percent of the daily values for calories, fat, saturated fat and sodium. In addition they do not contain artificial colors or flavors, high-fructose corn syrup or added trans fat; preservatives are used only when necessary, according to Fresh & Easy Neighborhood Market.
Included in the new offerings are a steak and spinach salad, curry chicken wrap, minestrone soup and garlic alfredo salmon. All eatwell products carry front-of-pack nutritional labels listing the calories, fat, saturated fat and sodium. The new products sell for under $4.
"Customers are always looking for more high-quality, nutritious foods that won't break their budgets," said John Burry, Fresh & Easy chief commercial officer. "We're trying to make it even easier for our customers to fulfill their New Year's resolutions without compromising on taste or quality."
The company also recently introduced frozen eatwell meals that sell for $1.99.