Frito-Lay Details Summer Snacking Occasions
Get great content like this right in your inbox.
Subscribe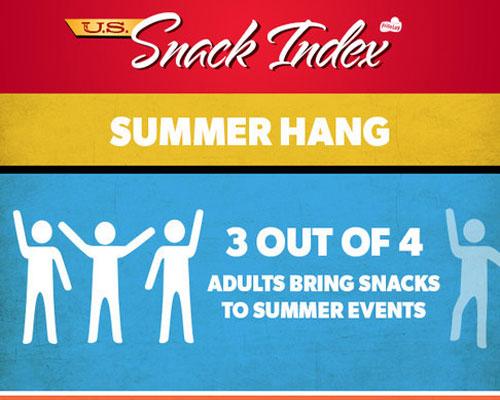 PURCHASE, N.Y. — The official summer season has kicked off, meaning consumers will be snacking more than ever.
To explore just where, when and how they'll snack this summer, Frito-Lay's latest installment of its U.S. Snack Index shows that snacks play an integral role in the summertime experience.
As the unofficial start of summer, Memorial Day historically starts a spike with snacking hitting its highest point during the week of July 4. In fact, according to retail sales data, the week of July 4 represents the biggest snacking week of the entire year for Frito-Lay. 
"Delighting consumers with a wide variety of snack options has always been our first priority, and it's helped us earn our spot in 94 percent of America's pantries," said Mike Del Pozzo, senior vice president of sales, chief customer officer, Frito-Lay North America. "As snacking heats up in the summer months, so do our efforts to make sure that we are delivering the perfect side to any summer occasion."
The Ubiquitous Summer Gathering
Nearly nine out of 10 Americans see snacking as important to summer occasions or can't imagine summer without their favorite snacks.
Recent data show that Americans are hosting more than 750 million summer gatherings collectively, from pool parties and casual cookouts to backyard barbecues and more.
According to the U.S. Snack Index:
Millennials, women and parents top the list when it comes to who will host a summer gathering. Approximately 90 percent of this group view snacks as an important ingredient for a successful get-together.

Three in four adults (77 percent) come to summertime events armed with snacks.

Chips reign supreme across most summer occasions with 51 percent of Americans choosing to bring chips to a summertime gathering over any other type of snack.

Consumers made their heads to tradition when it comes to flavor profiles. Almost 70 percent prefer to stick to classic, traditional flavors because of nostalgia.
FAMILY TIME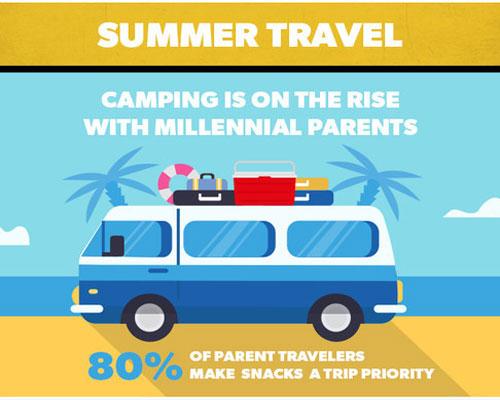 A recent AAA Travel survey found that nearly 100 million Americans will take a family vacation this year, including summer getaways or road trips. For these events and more, U.S. Snack Index found that:
Nearly three-quarters of respondents agree that they travel more in the summer with snacks making the packing list every time. That number jumps to nearly 80 percent when polling parents.

When in nature, nearly 40 percent of Americans cite nuts, seeds, granola bars and snacks that incorporate fruit, vegetables or legumes as their favorites for the campground.

One in four Americans chooses to bring snacks that incorporate fruit, vegetables or legumes (28 percent) to share with family; however, chips are still the most common family favorite to have on deck at a family reunion (33 percent), as well as frozen or baked sweets (18 percent).

Convenience (92 percent) is the most important snacking factor for summer travel snackers with more than half of Americans picking up single-serve packaging options (65 percent) before embarking on their journeys.
Summer Selfies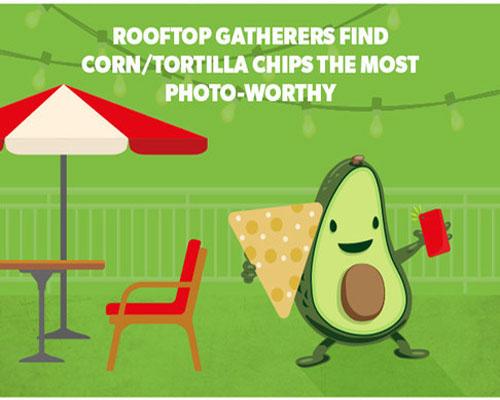 With more than 90 million selfies estimated to be taken every day, Frito-Lay asked consumers which snack was most likely to make a cameo in their summer selfies. Out of corn/tortilla chips, potato chips, cheese curls, pretzels and popcorn, consumers plan to snap and snack. The survey found:
Potato chips (43 percent) are the clear winner when it comes to backyard barbecues, cookouts and picnics. Corn and tortilla chips come in a close second (37 percent).
When it comes to rooftop gatherings, corn and tortilla chips (36 percent) are ahead of the pack when it comes time for photo-worthy snacking.
Whether at the pool, at the beach or on a boat, both potato chips and tortilla chips are the clear selfie leaders.
Cheesy snacks are more likely to make the shot while enjoying summer away from home including the beach, the pool, a road trip or even sporting event.
Frito-Lay North American partnered with Morning Consult to field the Frito-Lay North America U.S. Snack Index nationally. Approximately 2,220 adults were polled in interviews online from May 1-5. For more information, click here.
Frito-Lay North America is the $16-billion convenient foods division of PepsiCo Inc., headquartered in Purchase.