Generational Forces at Play as Consumers Plan to Spend Less This Year on Dining Out
Get great content like this right in your inbox.
Subscribe
NEW YORK — Restaurants will have to continue to battle for their share of consumers' wallets this year, as Americans expect to dine out and spend less per meal, a new survey from AlixPartners found.
Consumers plan to spend an average of $14.95 per meal this year, down from the $15.20 they said they spent over the past year. Thirty-one percent of respondents also said lower price was "important" or "very important" to them in defining value vs. 21 percent who said that in a similar AlixPartners survey released last spring.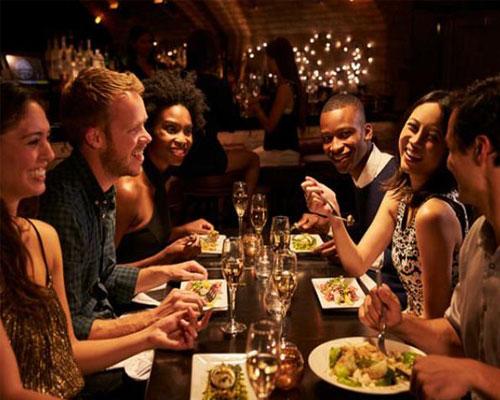 The fast-casual sector may be the hardest hit this year in terms of dining occasions, with 20 percent of millennials surveyed saying they intend to visit fast-casual establishments twice weekly or more over the next 12 months, compared with 24 percent who said the same in the 2017 survey.
For those who are planning to dine out less, saving money to reallocate toward other expenses is the No. 1 reason, as cited by 54 percent of consumers compared to 50 percent in last year's survey. Meanwhile, travel and retirement were cited as the biggest outside "share-of-wallet" pressures by 38 percent and 33 percent of consumers, respectively.
According to 43 percent of millennials, "lifestyle" purchases, like a home or car, are the No. 1 reason for dining out less.
"We're starting to see a shift in spending patterns among the millennial generation, and restaurant operators need to be prepared. A lot of focus in recent times has been on the buying patterns of this generation, but it's important to understand that millennials are now having families and children, and that their spending priorities are beginning to reflect that," commented Adam Werner, global co-head of AlixPartners' Restaurant, Hospitality and Leisure Practice and the firm's managing director.
The AlixPartners survey also suggests that technology's influence on consumer dining choices may be plateauing. For example, the percentage of respondents rating nine major technologies — ranging from digital menus to mobile apps and mobile payments — as a "4" or "5" in terms of influencing restaurant choice (on a scale of 1 to 5) all declined in this year's survey vs. last year's.
However, when asked about their use of any mobile technologies by restaurant sector, 28 percent said they've used them in the fast-food sector (up from 23 percent) and 23 percent said they have in fast casual (up from 18 percent), suggesting that limited-service restaurants may be the most fertile ground for mobility.
At the same time, 40 percent of all respondents said they have never used any type of mobile technology related to dining, only a slight drop from 42 percent in last year's survey. Similarly, only 46 percent surveyed this year said they are at least somewhat influenced by loyalty programs, the same percentage as in the survey last year. And, only 24 percent in this year's survey said they follow their favorite restaurant on social media.
"There are two, very disparate consumer groups in this industry today: the technologically-engaged and those who are not — and, in fact, may never be," said Kurt Schnaubelt, a managing director for AlixPartners' Restaurant, Hospitality and Leisure Practice. "It's important for operators to fully assess investments they are making in technology and loyalty, to make sure they're truly geared toward gaining net new market share, and not just wasting money chasing the latest fads."
Both delivery and takeout are expected to decrease slightly in the year head, the survey found, particularly at fast-food and casual restaurants, with consumers noting they expect their monthly delivery and takeout orders to dip 11 percent to an average of 3.34 visits this year and 8 percent to an average of 1.67 visits, respectively, vs. the number of visits in the past year.
Respondents also said they have an increased interest in delivery and takeout from fast-casual and fine-dining establishments, noting that they expect their number of annual visits to increase to an average of 2.06 visits and 1.48 visits, respectively; an increase of 6 percent in each segment.
Among those who said they order delivery, 47 percent prefer delivery directly from a restaurant vs. only 4 percent who prefer to order via a third-party service like Uber Eats, DoorDash or Postmates.
Meal-kit services, such as Blue Apron, HelloFresh and Sun Basket, are also slowing in consumer adoption, as only 18 percent said they have tried such a service. Another 68 percent of those who said they haven't tried a meal-kit service said they don't plan to try one in the future.
The latest survey results also suggest that ready-to-eat meals from grocery and convenience stores could be becoming a bigger threat to restaurants, with 25 percent of respondents citing such meals as a way to reduce restaurant spending (up from 19 percent in the AlixPartners survey released a year ago).
Among other topics covered in this year's AlixPartners survey: consumers' sensitivity to food-safety scares may be increasing, as 35 percent of respondents said they will "never" return to a restaurant chain that experienced a foodborne illness event, regardless of the specific location of the incident. That compares with 28 percent who said that in a third AlixPartners survey, which was conducted in the first quarter of 2016. 
The AlixPartners 2018 U.S. Restaurant Outlook was conducted in February and polled 1,005 U.S consumers.