12/04/2018
Giant Eagle Takes Ownership of Ricker Oil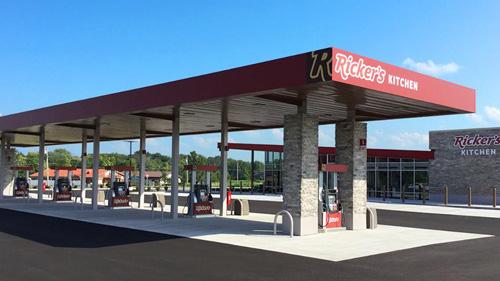 ANDERSON, Ind. — Giant Eagle Inc. officially added Ricker's convenience stores to its portfolio.
The retailer's acquisition of Ricker Oil Co. Inc. brings together Giant Eagle's GetGo Café + Market and Ricker's brands.
In addition to acquiring the 56 Ricker's convenience stores located in the Indianapolis and Fort Wayne metro areas and throughout central Indiana, the agreement also includes Ricker Oil's wholesale fuels distribution business of approximately 80 branded supply accounts located in Indiana, Illinois and Kentucky.
Giant Eagle entered Ricker's market with the first Indianapolis-area GetGo Cafe + Market in October 2015. Today there are seven GetGo locations spread throughout central Indiana. The Ricker's acquisition provides Giant Eagle with additional scale in the Indiana market as well as opportunities to leverage the strength of both the GetGo and Ricker's brands, according to Pittsburgh-based Giant Eagle.
Ricker's has had an established presence in Indiana's convenience store, retail fuel and wholesale fuel scene since 1979.
Like Ricker's, Giant Eagle is a family-owned and values-driven company. Founded by five families nearly 90 years ago, representatives of each Giant Eagle family still serve the company today, including fourth-generation family member Laura Karet, Giant Eagle's president and CEO.
"Today is a very special day because we welcome more than 800 new team members to our Giant Eagle family and begin work to bring together Ricker's and GetGo into a leading food-first convenience retailer in Indiana," Karet said.
As Convenience Store News previously reported, the two companies announced the pending transaction in September. Ricker's Chairman Jay Ricker, who was inducted into the Convenience Store News Hall of Fame in November, said Giant Eagle approached him about a possible deal at a time when he was thinking about retirement.
With the change in ownership, Ricker's President and CEO Quinn Ricker will join Giant Eagle to oversee operation of the Indiana properties. 
"At GetGo, our positioning of taking the 'cons out of convenience' means we offer the highest quality fresh foods, products and services to our customers. Our acquisition of the Ricker's chain supports this strategy, and we look forward to bringing together the best of both businesses in Indiana," said Polly Flinn, Giant Eagle's executive vice president and general manager of GetGo.
Matrix Capital Markets Group Inc. provided merger and acquisition advisory services to Giant Eagle, which included valuation advisory, transaction structuring and negotiation of the transaction.
The transaction was managed by John Underwood, managing director; Robbie Radant, director; Stephen Lynch, vice president; and Kyle Tipping, analyst. Thomas Kelso, managing director and head of Matrix's Downstream Energy & Convenience Retail Group, also advised on the transaction.
"It has been exciting to help Giant Eagle accelerate its growth plans with the acquisition of Ricker Oil Co.," Underwood said. "This expansion will significantly increase GetGo's market share in central Indiana."
Ramona Nee, Noah Beck, Vadim Brusser and Daniel Tavakoli led the Weil team which served as legal counsel for Giant Eagle.
GetGo operates 200 branded locations throughout western Pennsylvania, Ohio, northern West Virginia, Maryland and Indiana, in addition to more than 50 Ricker's stores throughout Indiana. Its parent company, Giant Eagle, operates stores throughout western Pennsylvania, Ohio, northern West Virginia, Maryland and Indiana.