10/09/2018
Gilbarco Veeder-Root Makes Investment in Electric Vehicle Charging Manufacturer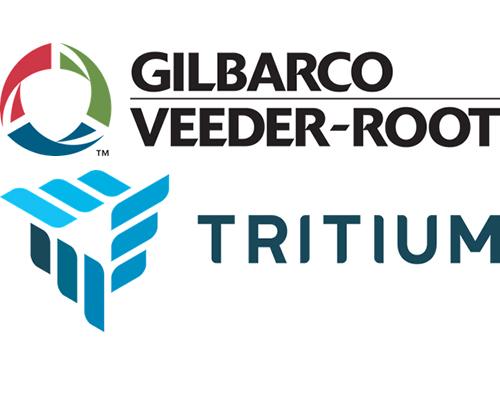 LAS VEGAS — Gilbarco Veeder-Root is taking a significant step into the electric vehicle (EV) market by making a minority investment in Australia-based Tritium, a privately held electric vehicle charging manufacturer. The company announced the partnership during a special press event at the 2018 NACS Show.
Tritium specializes in the design and manufacture of DC fast charging solutions for electric vehicles. The company launched its first DC fast charger in 2014 and has since become a leading global supplier, with installations in 2,016 countries.
Tritium opened a manufacturing, research and development, and sales facility in Torrance, Calif., in 2017.
"Our partnership with Tritium is the logical next step in our long history of evolving the Gilbarco Veeder-Root business portfolio to address progressive customer needs," said Martin Gafinowitz, senior vice president of Gilbarco's parent company Fortive Corp. "This investment provides early and judicious entry into a market with a growing need for rapid charging, which is one of the top barriers to EV purchase."
Gilbarco will sell all Tritium solutions, including Veefil-PK high power charging (HPC) systems, which are capable of a full charge of an EV in five to 10 minutes. Company executives unveiled a Veefil-PK on the show floor during the press event.
The high power charging Veefil-PK systems use liquid-cooled technology and have a significantly smaller footprint than other HPCs on the market, Gilbarco noted. The cooling system results in less wear on internal parts to ensure optimal charger lifetime.
Tritium's leadership in EV development creates a seamless path for Gilbarco Veeder-Root customers to begin building out their charging networks, according to the company.
"Gilbarco Veeder-Root's interest in Tritium further validates Tritium's capabilities and technology expertise in the EV space," said David Finn, CEO and founder of Tritium. "This investment also sends a strong message to the industry about the future of EV charging in the retail fueling and convenience market."
Greensboro, N.C.-based Gilbarco Veeder-Root's product lines include fuel dispensers, point-of-sale systems, payment solutions, tank gauges, retail software development and integration, and fleet management systems.