The Goods Mart Traverses the Country for Second Store Opening
Get great content like this right in your inbox.
Subscribe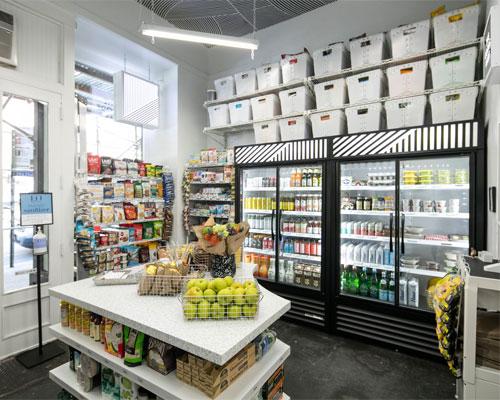 NEW YORK — California-based The Goods Mart is bringing its mighty mission cross-country, debuting its second location in New York City.
Located at the border of Soho and Little Italy at 189 Lafayette Street, the new, all-black and white outpost marries California best-sellers like $1.25 La Colombe drip coffee, Kelvin Slush Co. organic kombucha slushies and breakfast burritos with some New York City-specific offerings, reported Food and Wine.
Other food and beverage offers making their way from the West Coast are Alidoro's "Mona Lisa" sandwich featuring fresh mozzarella, artichokes, caponata, Bel Paese cheese, and the special "Goods Mart," featuring prosciutto, fresh mozzarella and a blend of sauces. New York City highlights are a soft-boiled-egg-topped quinoa salad from Loosie's Kitchen; West-bourne's granola and chocolate cashew pudding; and curry plantain lentil puffs from plant-based catering company Spoon and Sprout.
Other grab-and-go items include Eden Foods' roasted pumpkin seeds, Kettle chips, Tate's cookies, Matcha Bar bottled teas and Forager's cashew yogurt.
In total, there are around 200 products for sale. Most of them skew healthy and socially conscious. According to Rachel Krupa, owner and operator of The Goods Mart and founder of Krupa Consulting, a boutique food and wellness public relations firm, everything was chosen with a range of budgets in mind. 
Like the original location, the second The Goods Mart is committed to avoiding waste and giving back. To start, Krupa has partnered with Local Roots and Norwich Meadow Farms to offer "cosmetically challenged" fruits and vegetables that might be a harder sell at more traditional grocery stores. The shop will also carry a selection of Norwich Meadow Farms' locally-made apple sauce, honey, maple syrup, salsa and apple cider vinegar.
All expired or too-blemished produce will be donated to the Bowery Mission, a Manhattan-based men's shelter. Additionally, all tips in the month of October will go to the NYC Parks Stewardship Program, where they'll then be put toward planting new trees in the area around The Goods Mart. 
The Good Marts' first location measures 900 square feet and opened at 3140 Sunset Blvd. in Silver Lake, Calif. It features 300-plus mission-driven, better-for-you products that are also environmentally friendly; a community "jungle" garden; and Square at checkout, where guests can use the tip function to donate to local charities, as Convenience Store News previously reported.
Download our full report, "Naturally Good," by clicking below.