Google Chooses Kit Kat as Latest Android Flavor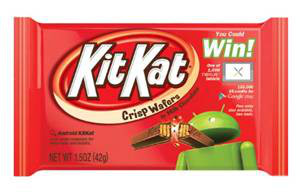 HERSHEY, Pa. -- Since its inception, Google has been using sweet treats as the code names for its major Android platforms. Now, the technology company is teaming up with The Hershey Co. to launch the latest version of its Android mobile operating system, named Kit Kat.
"We couldn't imagine a better name for our Android K release than the chocolate treat that's been a favorite go-to snack among the team since the early days of Android," said Marc Vanlerberghe, director of Android marketing at California-based Google.
Android Kit Kat is version 4.4 of Google's mobile operating system. The code names began with Android Cupcake 1.5 in 2009 and have continued alphabetically, including Android Jelly Bean 4.3 released earlier this year.
"We are proud and excited to have one of the world's leading mobile innovators pair up with one of America's favorite chocolate brands," said Jennifer Podhajsky, vice president of U.S. Chocolate for The Hershey Co. "Google's choice to name their next Android platform release Kit Kat brings together two well-known icons from pop culture and technology and gives the classic jingle of 'Gimme a Break' a whole new meaning in the tech world."
This news complements the recent launch of Kit Kat Minis. The product is the result of many months of research and development by Hershey engineers to miniaturize one of the world's most popular candy bars without compromising the popular taste, texture and shape.
To celebrate the collaboration, the Kit Kat brand and Google are offering consumers the chance to win 1,000 Nexus 7 tablets, 150,000 Google Play $5 credits, and 20,000 coupons for a free 8-ounce bag of Kit Kat Minis. Consumers can look for a code inside the wrapper of specially marked Kit Kat 1.5-ounce bars and visit android.com/kitkat for their chance to win. The promotion will run from Sept. 6 to Jan. 31.
The Kit Kat brand is also reinforcing the partnership with a Kit Kat USA Facebook page and a Kit Kat USA Google+page to connect with Kit Kat U.S. fans and keep them up to date on the latest details of the Android Kit Kat campaign. In addition, a giant statue of the Android made out of the iconic Kit Kat bars will reside at Hershey's headquarters in Hershey, Pa., the candy company stated.