Heineken Inviting Consumers to 'Celebrate Together'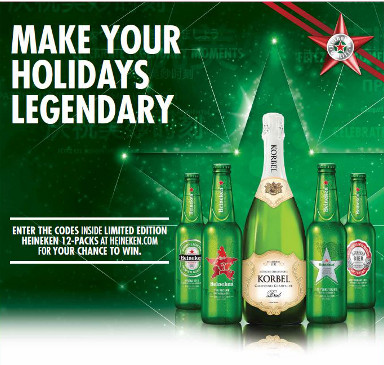 NEW YORK -- Heineken USA is preparing for its 2013 holiday program, which will reach retail outlets on Nov. 1.
Known as "Celebrate Together," the program will feature celebratory limited-edition bottle labels and promotional packaging on Heineken Lager 12-packs. They will be available in stores throughout November and December.
Four different limited-edition bottles celebrate Heineken milestones, including designs that represent the brand's beginnings, its global presence and its ongoing commitment to innovation. Each holiday-themed 12-pack of limited- edition bottles also features an in-pack code that earns consumers the chance to instantly win a $50 holiday reward gift card.
"Upscale beer drives category growth during the holiday period," said Belen Pamukoff, Heineken brand director. "In fact, this period includes two of the three biggest volume weeks for upscale beer, representing more than $350 million in revenue. Heineken 12-packs generate a 10-percent lift [in sales] and a 44-percent increase in volume during the holidays, making Heineken the best upscale brand to promote during this critical selling season."
In addition to Heineken's promotional packaging, channel relevant cross-merchandising instant redeemable coupons and mail-in rebate offers (where legal) will be available on items including ham, turkey, gift cards and Korbel sparkling wine.
"During the holiday period, Heineken drinkers are more likely than mainstream beer consumers to purchase Korbel," Pamukoff added. "Heineken and Korbel co-displayed are the perfect 'Celebrate Together' program partners."
Custom-designed display pieces and point-of-sale elements will be available for retailers to decorate their stores. In addition, Heineken is planning targeted promotional media investment including national television, digital, out-of-home and radio.
"We have all the elements and support in place this holiday season to enhance consumers' celebrations and increase sales of higher-margin Heineken Lager for our retail partners," Pamukoff said.
Heineken USA Inc. is a subsidiary of Heineken International BV. European brands imported into the United States include Heineken Lager, Heineken Light, Amstel Light, Newcastle Brown Ale and Strongbow cider. Heineken USA also imports the Dos Equis franchise, Tecate franchise, Sol, Indio, Carta Blanca and Bohemia brands from Mexico.