Highlights From the 2018 Natural Products Expo East
Get great content like this right in your inbox.
Subscribe
BALTIMORE — The 2018 Natural Products Expo East trade show showcased emerging products, formats and ingredients from more than 1,500 exhibiting companies across the food, drink, personal care, household and ingredient industries.
Held in Baltimore, the event took place Sept. 12-15 and featured more than 400 first-time exhibitors showing their organic, natural, nutritional and sustainable goods.
Among the thousands of products on display, there were some exciting items that are ripe for convenience stores. Food and beverages saw the most growth this year. Also key were functional foods — foods that add extra protein, vitamins, probiotics, regulated sugar or are plant-based.
The language and terms used in this market are evolving. The natural and organic industry is changing the terminology to be more inclusive, as the use of natural and organic food and beverages grows. The word, plant-based, has replaced vegan as an all-inclusive term. Grain-free is seen as much as gluten-free. Many dairy-free items are now called all allergen-free. Organic often has the additional words, regenerative agriculture, on the label.
Plant-based ingredients were seen across many categories, including dairy and protein main dishes. They are much more affordable now to the mass consumer. There are also now plenty of options for keto-friendly diets, as well as for people just wanting to eat healthier.
Here is a selection of some of the tastier trending products, arranged by key categories: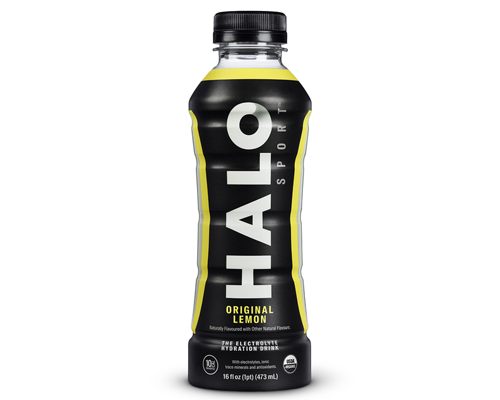 Functional & Enhanced Waters
Waters with added functional value in the form of oxygen, minerals, vitamins, probiotics and botanicals were everywhere. Low-sugar claims are most important in these products. Health factors are driving the category.
There is an abundance of alkaline spring waters, and one that stood out was Flow. It has organic flavors packed with electrolytes in an eco-friendly pack that is even mindfully sealed with a plant-based cap derived from non-GMO sugarcane.
Relaxation waters in cans from Som Sleep and Snooze were popular items. People are stressed out. Most working folks complain about their sleep, and sleeping without drugs is trending.
BrainJuice for mental focus and clarity was very tasty and full of added vitamins. Phocus and Limitless are sparkling water energy waters with caffeine derived from tea and have low or zero calories. Halo is a tasty new sports hydration drink minus the coconut water and is filled with electrolytes and very low sugar.
There were also some new flavors of Brew Dr. Kombucha in an aluminum can for the active consumer to take to sporting events or the beach. For kids, instead of juice packs, Wonder+Well Water in organic fruit flavors with no sugar or artificial sweeteners is an alternative. Organic Cold Pressed Honey Drop Lemonade was a refreshing new line made with 100 percent raw honey.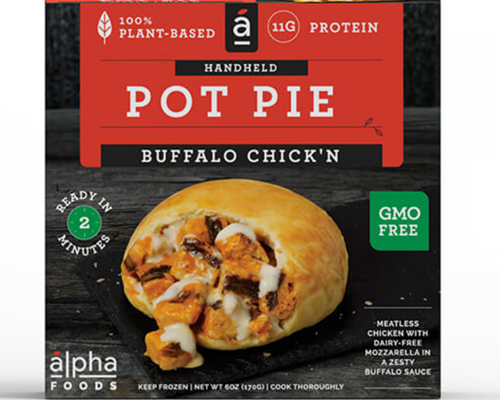 Frozen Foods
The frozen foods category showed lots of innovation. Consumers are eager for easy-to-cook, healthy options to simplify dinner or as a snack. A lot of work has gone into making protein tasty. The flavors are much more appealing than before. 
The most exciting grab-and-go frozen food item was from Alpha Foods. Its motto is "100% plant-based convenience, 0% sacrifice." The company's All Day Burritos and Hand Held Pot Pies are great for a snack or a meal — excellent texture and lots of different on-trend flavors.
Caulipower LLC's Uncured Turkey Pepperoni Pizza with cauliflower crust was very flavorful and if you did not know it was cauliflower, you would think it was any thin-crust pizza. Meanwhile, No Bull The True Veggieburger is a quarter-pound burger loaded with a savory lentil.
Nuggets and small balls, either chicken or plant-based, and Italian meatballs were well represented. Crafty Counter has come out with Wunder Nuggets in three varieties: chicken, chicken free of top eight allergens and vegan, and a 100-percent plant-based version.
Wildscape single-serve frozen meals layered in a transparent bowl stood out with a unique, satisfying taste and texture.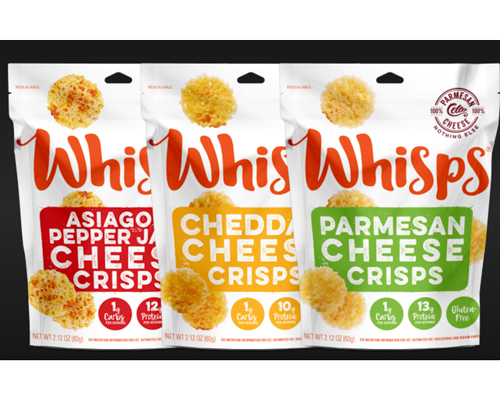 Salty Snacks
Puff snacks were everywhere. Incredipuffs are new from The Snack Brigade and come in bold flavors, such as Saucilian Pizza and Sizzling' Sriracha. Fuller Foods has wholesome Serious Cheesy Puffs that are made with Bob's Red Mill Corn in flavors such as Asiago Black Pepper and Blue Cheese Jalapeño. Hippeas has come out with organic chickpea puffs with 3 grams of fiber and 4 grams of protein per one-ounce serving. The vegan white cheddar variety had a satisfying flavor and crunch.
To go with your salty snack, Beansmash! Snack or Dip is an excellent source of protein, perfect for work or school with chips or veggies, or even just a spoon. Packaged in an easy-to-prepare container, it has Chipotle Black Bean, Cheesy Pinto Bean, Parmesan Garlic White Bean and Green Chile Pinto Bean varieties.
Keto and other low carb diet-lovers are making the high protein Whisps Cheese Crisps an addictive everyday routine. They are an airy, crunchy, crispy snack from Schuman Cheese and the delicious baked sharp Cello cheddar cheese and smoky bacon barbecue was one of the best.
High in protein, low in carbs, cheese on crackers is trending. Protes Protein Chips in cheddar, cinnamon and light butter have about 15 grams of protein per serving. The company also has a Protes Protein Popcorn with 10 grams of protein, which was being sampled by the handful — especially the Zesty Nacho flavor.
Dairy
High-protein yogurt was on the menu at the expo. Lavva plant-based yogurt has probiotics, prebiotics, plaintains and is crafted with the Pili nut from the Philippines. Wünder Creamery yogurt has a smooth texture that is protein packed, nutrient-rich, and has a non-sour taste. Think of it as yogurt meets crème fraiche.
Organic Cashewmilk and organic coconut cashewgurt from Forager Project add to the variety of plant-based dairy offerings. Pillars Yogurt has a new drinkable Greek yogurt for breakfast on the go or to put in your cereal. This is, of course, non-GMO, gluten free and all natural.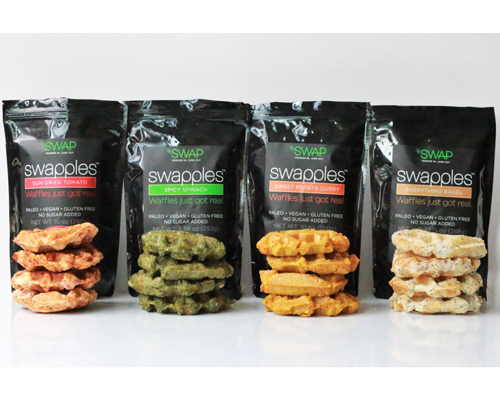 Breakfast items
Waffles are trending. Swapples has reinvented the waffle with bold flavors such as Tomato Basil, Garlicky Greens and Everything. These freezer waffles are entirely made of vegetables. The primary ingredient is yuca. As founder Rebecca Peress said before she created them — "Why can't there be a convenience food made only from food?!" 
Kodiak Cakes has a tasty whole-grain range of protein packed Power Waffles, delivering more than 10 grams of protein. Bobo's Toaster Pastries are an organic version of breakfast pop-tarts. Besides the good flavor, they have a protective sleeve that makes them extremely attractive for grab-and-go without getting your hands sticky. 
One of the most exciting items for breakfast was the Whirlybird Granola On The Go Pack that is prepared in the bag it comes in with a spoon included. This is super-convenient. You just stir in milk or yogurt, or just grab and go. Each small batch is sweetened with an Ohio pure maple syrup and organic agave nectar.
Munk Pack has come out with a breakfast ready-to-eat Oatmeal Fruit Squeeze, packed with superfoods — oats goodness with none of the prep.
Protein Cookies & Bars
While there were plenty of organic and natural protein bars and snacks, the new trend was small bites or cookies with high protein. The Protein Cookie from Munk Pack has 18 grams of plant protein and there are no sugar alcohols, soy or eggs. This is a functional alternative to energy bars and the varieties were very tasty. Rule Breaker has come out with round brownies made from chickpeas. They were soft, and free from nuts and the top eight allergens. Kids and adults would have no clue these were gluten-free or 100 percent plant-based without reading the label. 
Enjoy Life has introduced small balls called Protein Bites that are available in grab-and-go packs. FATSNAX has "Keto's favorite cookie," which had a tasty, high fat content.
One protein bar that stood out was WOLO — perfect for travelers. It has vitamin C and zinc to boost your immune system when you are on the road. Another, RXBAR, has egg whites for the protein along with almonds, cashews and dates.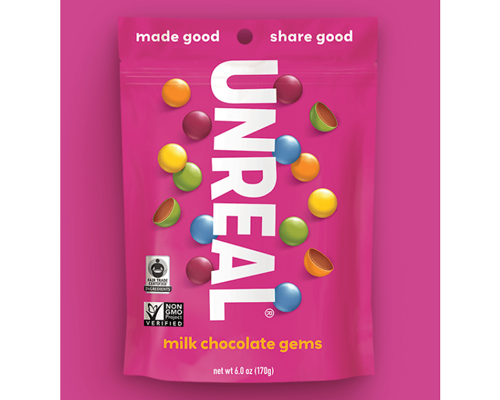 Chocolate & Candy
Milk chocolate gems and peanut butter cups from UNREAL Brands are crazy good. You could say the taste is unreal, sort of like these products used to taste. They are 100 percent organic, non-GMO, gluten-free, soy-free, Fair Trade Certified, free of artificial flavors, dyes and preservatives. A great option for your millennial moms or anyone who wants high-quality, flavorful chocolate candy.
A sweet and tangy treat called Glee Tarts from the maker of Glee Gum by Verve Inc. is very flavorful. The candies are made without sugar or artificial ingredients. Pineapple, cherry, Meyer lemon and passion fruit flavors are available and are sweetened with 100 percent Xylitol for added dental benefits. They are also a guilt-free snack as they have zero calories.
Jerky
While the vegan Savory Wild Portabello Jerky from Giorgio Foods and Pan's Mushroom Jerky were bringing the bold flavor at this event, the real story is with real beef jerky, such as Tillamook Country Smoker Zero Sugar Jerky, since so many people are limiting their sugar content today.
Another new product is Sweetwood Smokehouse Steak Bites with no artificial ingredients and minimally processed tender meat. Country Archer Jerky Co., a gourmet brand, is a high-quality, 100 percent grass-fed beef jerky with a new flavor called Hatch Chile.
Alternative Snacks
Chef Bobo came out with Organic Crunchy Rollers, perfect little long rolls of rice crispy-type flavored snacks with mixed berries and other varieties.
Honey
September is National Honey Month, and local honey and Manuka honey was all the buzz. The natural healing properties of Manuka Honey were featured in abundance as an ingredient or as a product line. The Melora New Zealand and GloryBee Local honey brands offer a large line of candy and snacks and creams and balms, while Pacific Resources International featured no less than seven honey-related items.
Foods of the World
The Natural Products Expo showcased a variety of ethnic foods that were either easy to prepare or worked well as grab-and-go meals. One of the most impressive companies was Café Spice Artisan Global Cuisine with authentic recipes by celebrated chef Hari Nayak. It offers Indian vegan and gluten-free options, and all chicken and beef are fed a vegetarian diet and no antibiotics. Among the 13 varieties are Flavorful Channa Masala with lemon rice, Chicken Vindaloo, Saag Paneer and Red Curry Chicken. The company is developing a convenience store line in the near future.
Lotus Foods has a tasty line of Rice Ramen soup cups.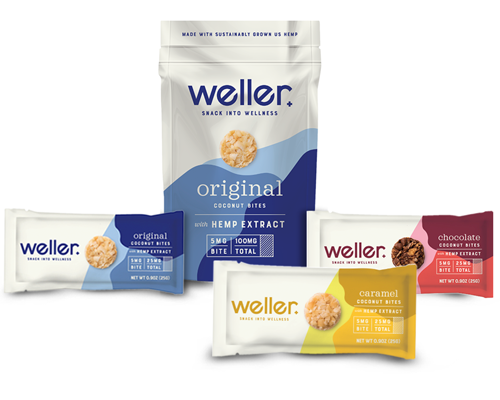 Hemp-Based CBD PRODUCTS
The excitement around hemp and CBD oil and tinctures, balms and candy bites was crazy. It is seen as the hot compound to watch. There were more than two dozen hemp-extract companies at the trade show. There are conflicting government issues with hemp and CBD and retail, so hopefully this will get resolved by the end of 2018.
Customers are looking for sleep aids, inflammation treatment and anxiety relief, and the natural markets are looking to supply them. They see CBD as the biggest thing since the emergence of Vitamin C or Omega-3. The non-psychoactive CBD-called "hemp-derived, full spectrum phytocannabinoid" products could contribute billions of dollars to the natural products industry that focuses on health and wellness.
The U.S. hemp-based CBD market is projected to hit $646 million by 2022, according to Hemp Business Journal, with 28 percent of those sales occurring in the natural and specialty channel.
Overall, this year's Natural Products Expo East in Baltimore was busier than ever. The natural products industry offers a wealth of possibilities for the future of the food and drink industry, especially as consumers care more about natural ingredients, inherent nutrition, and corporate transparency and responsibility.