Hostess Snack Cakes Back on Shelves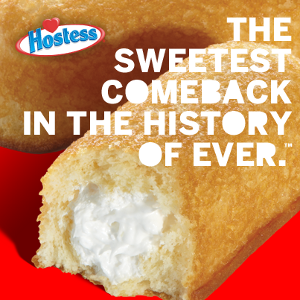 NEW YORK -- Hostess fans are belting out a collective "Ho Ho" today as Hostess Brands Inc.'s snack cakes return to store shelves after an eight-month hiatus. At least one convenience store operator celebrated early with its customers.
According to a report by Kens5.com, the Corner Store on UTSA Boulevard in San Antonio treated customers to an early sampling of Twinkies on July 13 beginning at 10 a.m. By noon, the special stock was nearly gone.
The news outlet also reported that Hostess had asked retailers to wait until today to start selling Twinkies. However, retailers including Wal-Mart Stores Inc. started selling the spongy, cream-filled yellow cakes as early as Friday.
"Hostess has not, and is not, giving any particular retailer exclusivity or preference to have products first, and is making a great effort to fulfill orders equally and timely to everyone," the company said in a statement.
It clarified that the early shipment was intended to give retailers a chance to display the products today.
Hostess also announced that Twinkies now have a shelf life of 45 days -- three weeks longer than what the previous owner stated. Hostess said this change was underway at the previous company right before it went out of business.
According to a report by the Los Angeles Times, the new Hostess Brands has plans to expand its snack cake line to include lower-calorie snacks, peanut butter-flavored treats and possibly gluten-free options in an effort to appeal to younger consumers.
"We want to capitalize on the nostalgia of the brand, but we also want to make sure we're relevant to this generation and not just the generations of the past," Hostess Brands President Rich Seban said.
As CSNews Online previously reported, following Hostess' 2012 filing for Chapter 11 bankruptcy protection, Metropoulos & Co. and Apollo Global Management LLC formed Hostess Brands' new incarnation with a $410 million purchase in March. CEO C. Dean Metropoulos then stated that the company would make $60 million in capital investments to reopen locations throughout the summer, with plans to hire at least 1,500 employees.
Hostess' decision on its snacks cakes business came two months after it selected Flowers Foods Inc.'s stalking horse bid for its bread brands. In two purchase agreements totaling $390 million, Flowers Foods agreed to purchase the Wonder, Nature's Pride, Merita, Home Pride and Butternut bread brands, 20 bakeries and approximately 38 depots for $360 million and the Beefsteak brand for $30 million.
Hostess filed for bankruptcy last year after talks with the Bakery, Confectionary, Tobacco and Grain Millers Union broke down.