How C-store Retailers Are Celebrating the Thanksgiving Holiday
Get great content like this right in your inbox.
Subscribe
NATIONAL REPORT — Convenience store retailers and suppliers are extending their gratitude this Thanksgiving, offering thanks to customers through special promotions in-store and at the pump.
7-Eleven Inc.
7-Eleven is bringing back Bring Your Own Cup (BYOC) Day in time to kick off the holiday shopping season.
The retailer's Slurpee fans can fill any "cup" — or container that can be used as a cup — at participating 7-Eleven convenience stores on Black Friday, Nov. 23. The promotion runs from 11 a.m. to 7 p.m.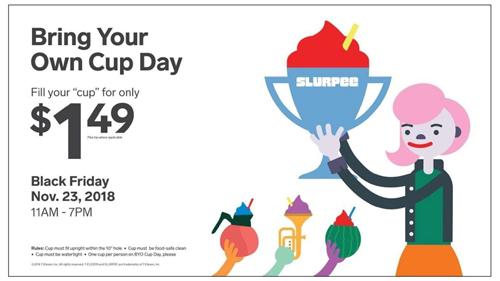 According to the c-store chain, all cups must be leakproof, safe, sanitary and fit upright within the in-store BYOC display cutout, which is about 10 inches in diameter. Options include cookie jars, ladles and punch bowls; however, "trash cans, kitchen sinks and sleighs are not eligible," 7-Eleven said.
The cost to fill any cup of choice, regardless of size, is $1.49, the price of an average medium Slurpee.
In addition to BYOC Day, 7Rewards customer loyalty platform members can purchase a slice of pizza for 50 cents at participating stores each day from Black Friday through Cyber Monday, Nov. 26.
To receive this deal, 7Rewards members need to scan their 7‑Eleven app, use their 7‑Eleven physical card or keychain fob, or enter their Alt-ID (phone number) at purchase time. The offer can be redeemed once per day per customer.
"Many Slurpee fans will be out and about on the biggest shopping day of the year," said Jacob Barnes, 7-Eleven's senior category manager for proprietary beverages. "With BYOC, they can fill up with their favorite Slurpee drink to keep them going, whether it's back out with the crowds or back home to the couch."
Slurpee fans can share their BYOC Day experience with photos on social media using the hashtag #BYOCDay2018.
Based in Irving, Texas, 7‑Eleven operates, franchises and/or licenses more than 67,000 stores in 17 countries, including 11,800 in North America.
Casey's General StoreS INc.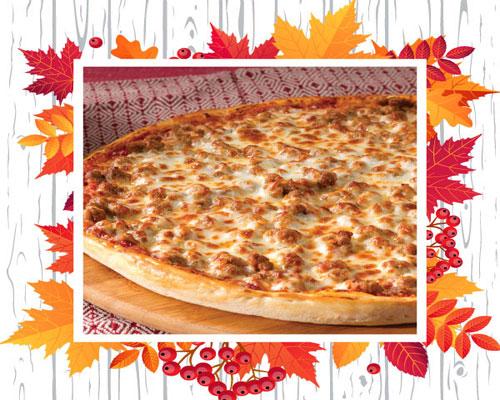 Ankeny, Iowa-based convenience store retailer Casey's General Stores is looking to bring ease to consumers this holiday season with two special deals.
The first offer is one large single topping pizza for $9.99, no coupon required.
"Are you ready for Thanksgiving? We sure are! For those of you who'd rather kick back and watch football instead of spending all day in the kitchen, take advantage of our Thanksgiving Day pizza special," the company said in an online promotional email.
Casey's is also offering pumpkin pies throughout November for only $7.99 each.
"If you're looking for more traditional Thanksgiving treats, we can help. ... This class pie will be a great addition to your Thanksgiving table, no baking required," the retailer added. 
Casey's operates more than 2,000 stores across 15 states.
Cumberland Farms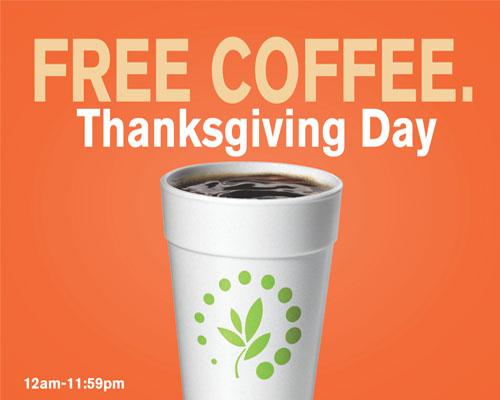 From 12 a.m. to 11:59 p.m. on Thanksgiving Day, Cumberland Farms is offering customers a free signature Farmhouse Blend Bold coffee — hot or iced, any size — at all of its nearly 600 c-stores.
Farmhouse Blend Bold is customizable with flavor shots like eggnog, as well classics such as French vanilla and hazelnut.
Headquartered in Westborough, Mass., Cumberland Farms operates 572 stores across eight states.
EXXONMOBIL
GasBuddy partnered with ExxonMobil for this year's "Tanksgiving," a holiday event that occurs the week before Thanksgiving, grounded in the premise that millions of Americans are preparing to drive hundreds of miles to be with friends and family — requiring a lot of gas, according to GasBuddy.
On Nov. 15, GasBuddy, Exxon and Mobil hosted the biggest Tanksgiving giveaway event at a secret location, where rewards members earned $25 worth of free gas.
Additionally, as part of the Tanksgiving event, from Nov. 14-15, Exxon Mobil Rewards+ members could enter to win free tanks of gas no matter where they live. Approximately 1,000 members won $20 worth of gas in the form of Exxon Mobil Rewards+ points.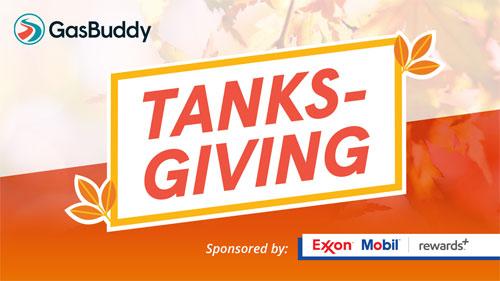 "'I am really excited to hit the road the day before Thanksgiving!' said no one ever. Traveling during this holiday can be a pain point for many consumers. Tanksgiving, on the other hand, is the complete opposite," commented GasBuddy Chief Marketing Officer Michael DiLorenzo. "We are thankful to partner with Exxon and Mobil stations this year to make the drive a little easier."
Tanksgiving was only available to drivers who are Exxon Mobil Rewards+ members. To enter the sweepstakes, they had to visit gasbuddy.com/tanksgiving and enter their 16-digit rewards member account card number.
"Exxon and Mobil stations focus on every detail of the fueling experience from pumping to paying. We are excited to surprise and delight our Exxon Mobil Rewards+ members with this fun holiday experience," said Eric Carmichael, Americas fuels marketing manager, ExxonMobil Fuels & Lubricants. "Our Exxon and Mobil Synergy gasoline is engineered with seven key ingredients, designed to protect your engine and give you better gas mileage — perfect for families on the road next week."
ExxonMobil is the largest publicly traded international oil and gas company.
Boston-based GasBuddy connects drivers with their Perfect Pit Stop and is a leading source for crowdsourced, real-time fuel prices at more than 150,000 gas station convenience stores in the U.S., Canada and Australia.