Hunt Brothers' Hunt to Win Sweepstakes Returns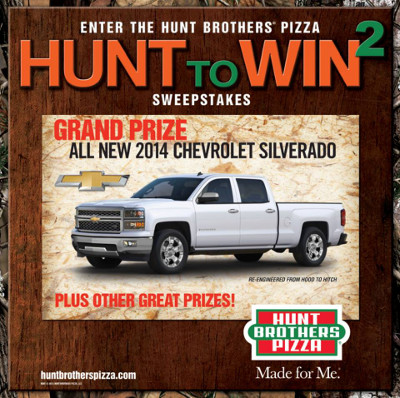 NASHVILLE -- Hunt Brothers Pizza is helping hunters reload their camouflage collection for the second time via the Hunt to Win 2 Sweepstakes. From now through Dec. 31, hunting enthusiasts nationwide can enter to win more than $65,000 in prizes, including the grand prize of a brand new 2014 Chevrolet Silverado 1500 pickup truck valued at $40,000.
"The first Hunt to Win was one of the most successful sweepstakes in our company's history, and we're excited to bring it back with even bigger and better prizes this time around," said Keith Solsvig, vice president of marketing for Hunt Brothers Pizza. "We've added Chevrolet to our list of partners, which includes Realtree and Bad Boy Buggies. Together, we have some of the biggest and most well-respected names in the automotive, outdoor and hunting industries."
Consumers can enter daily by visiting www.huntbrotherspizza.com/HTW2 or www.facebook.com/HuntBrothersPizza. Entries can also be submitted by mail. No purchase is necessary to win.
"Chevrolet is proud to support outdoor enthusiasts everywhere and add our name to the list of Hunt to Win 2 Sweepstakes partners," said Edward Bailey, marketing manager of regional marketing for Chevrolet. "Many of our Chevrolet owners count on our great products to better their outdoor adventures, so partnering with Hunt Brothers Pizza sweepstakes is a perfect fit."
In addition to the Chevrolet Silverado grand prize, consumers can win a Bad Boy Buggies Recoil IS 4x4 hunting ATV with Realtree APG camouflage design valued at $15,000 as a first prize, as well as Oculus binoculars, Bass Pro Shops gift cards and t-shirts.
"With nearly 14 million licensed hunters across the country, most living in the same areas where Hunt Brothers Pizza is sold, this partnership is a great way to get the hunting community involved in trying our products while rewarding our loyal consumers," Solsvig said.
Hunt Brothers Pizza, the nation's largest brand of made-to-order pizza in the convenience store industry, has more than 6,800 locations in 28 states.