Hunt Brothers Pizza Rolls Out New Limited-Time Variety
NASHVILLE, Tenn. -- Hunt Brothers Pizza launched its newest limited-time offer, Philly Cheesesteak Pizza. Designed to deliver the great taste of Philly's classic sandwich transformed into a pizza that everyone will love, this LTO variety will be available in stores through November.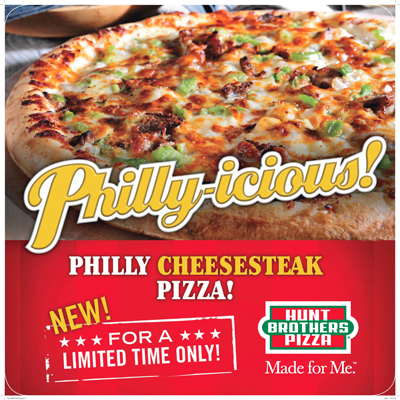 The new offering features creamy white cheddar cheese sauce, tender slices of beef steak, green peppers, onions and mozzarella cheese, all on Hunt Brothers Pizza's original crust.
"Hunt Brothers Pizza is seeing a lot of demand for new combinations of flavors, so our Philly Cheesesteak Pizza really delivers on giving consumers something new and interesting to try," said Keith Solsvig, vice president of marketing for the Nashville, Tenn.-based pizza program provider. "The Philly Cheesesteak Pizza did extremely well in our test markets, so we're excited to roll this out to all of our consumers to enjoy for a limited time."
To meet the growing demand for more unique pizza flavors, Hunt Brothers said it plans to develop more limited-time offers for its c-store partners. It is the nation's largest brand of made-to-order pizza in the convenience industry, with more than 6,000 locations in 28 states.