Improving the C-store Customer Experience, Part 2

As discussed in Part 1 of this column, convenience store merchandising strategies need to be developed based on understanding customers and how they operate (use and interact) within each "zone" in the store. The most successful retail concepts have recognized that their stores are not just branded boxes. Each store is actually a collection of many individual "customer operating zones."
Customers behave differently in each zone. Their needs and expectations are different. Their attitudes and mindset are different from one zone to the next. Each of these unique zones is right for one merchandising strategy and dead wrong for another.
Part 1 of this column dealt with where the c-store customer experience falls short, and the need to start thinking in terms of customer operating zones. The acronym "COZI" (Customer Operating Zone Improvement) captures the methodology to achieve this. COZI involves a multi-step process. Step 1: Conducting a Zone Assessment and Step 2: Developing a Customer Zone Strategy were already addressed. Here, we discuss steps the remaining three steps:
Step 3. Develop Design Solutions
The last step in the zone strategy process is design -- the creation of graphics, images, typography, branding, displays, etc. This is what the communication will look like. It's tempting to jump straight to this step, but don't fall into that trap. Effective design must be driven by thoughtful analysis and strategy development. Attractive images do not necessarily result in attractive business improvement.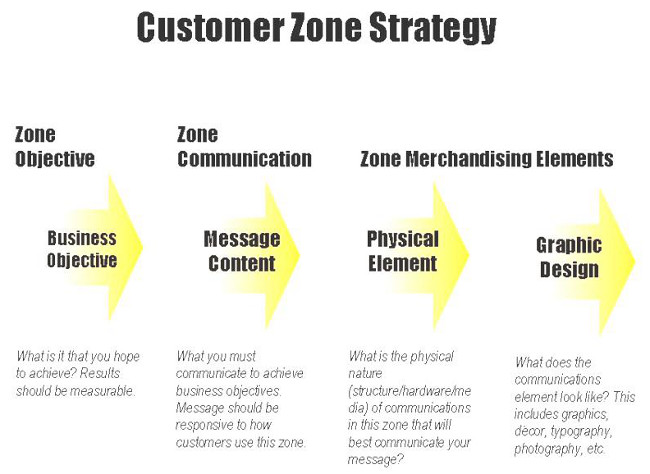 Once you've identified all the zones in your store, it's time to develop a strategy for each zone. Developing a strategy involves a multi-step process. This ensures that the resulting merchandising and communication pieces work effectively within specific zones. Note that the actual "design" is the last step.
Step 4. Implement Zone Strategies
By now, you have identified your business objectives, you know what you want to say and you know how you are going to say it. During this step, you fine-tune and finalize your zone merchandising elements. By all means, evaluate the creative concepts and get team consensus. Keep things objective by using research to validate the concepts with your customers, lapsed customers and non-customers.
Make modifications as necessary and then select several stores that will serve as pilots to test the new initiative. Monitor results during the test period. Measure sales increases, customer flow, throughput and return on investment. The success of these tests will help convince your store operators that this is worth the time, effort and investment.
Step 5. Make Improvements & Rollout
Continue to monitor key measures of success to identify opportunities for improvement. What's working? What's not? Why? Make tweaks to optimize business results. Feed these "lessons learned" back into the planning process (the next round of efforts will benefit from what you learned). Use research to find out from customers what's working and what's not. Finally, roll out your enhanced strategy to other stores in the system.
Sounds simple? It's just common sense, you say? You're right! But it's amazing how many retail brands (even the really smart ones) overlook the value of developing strategies based on "customer operating zone improvement." So, it's time to start thinking in terms of zones.
Tom Cook is a principal of King-Casey. Established in 1953, King-Casey is a leading retail branding and design firm with a particular specialty in restaurants and foodservice. King-Casey's focus is on building its clients' businesses by strengthening their brands and improving their customer experience. For information, visit www.king-casey.com. Cook can be reached at (203) 571-1776 or [email protected]
Editor's note: The opinions expressed in this column are the author's and do not necessarily reflect the views of Convenience Store News.