10/04/2019
Incoming NACS Chair Julie Jackowski Rallies Everyone in C-store Industry to Lift Each Other Up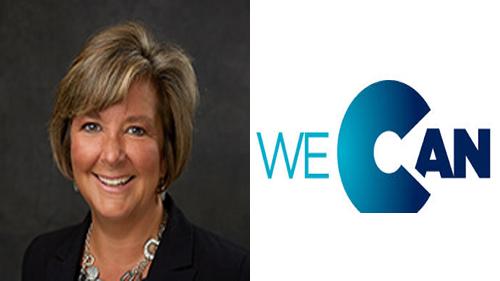 ATLANTA — Newly named NACS Chair Julie Jackowski never intended to end up in the convenience store industry. Yet the path she took to get there taught her some important lessons, she recalled during the closing general session of the 2019 NACS Show.
"I didn't grow up in the industry," Jackowski told the audience on the final day of this year's event, held Oct. 1-4 at the Georgia World Congress Center in Atlanta. "I didn't seek out the industry, and somehow it found me."
Jackowski became a lawyer and focused on employment law to fulfill her desire to help people. When a partner at her law firm alerted her to a job opportunity at convenience store chain Casey's General Stores Inc., her first concern was that they might be trying to get rid of her but, after looking into the position, she found that the in-house legal role was a great fit for her due its focus on employment law and people.
During her final interview with former Casey's CEO, the late Ronald Lamb, he told her something that significantly affected her view of the company and sealed her decision to take the job: "'Julie, you need to understand, if you come to work for Casey's, an attorney is no better than our part-time doughnut makers,'" she recounted.
His point was that every single person at Casey's, regardless of education or job title, is critical to the success of the operation.
"The goal always, always has to be to lift each other up to better serve our guests and our communities," she said.
That holds true for the convenience store industry as a whole, and the NACS Show as an event, according to Jackowski, who today serves as senior vice president, corporate general counsel and secretary of Casey's General Stores. By coming together to share ideas, c-store leaders can improve the industry for everyone.
"That's what makes it really fun," she said.
Looking to the future, Jackowski advised NACS showgoers to remember that regardless of market size, every retailer is competing against the internet and consumer expectations of unlimited inventory and fast delivery.
Taking part in the NACS InStore program, which brings c-store retailers and the nation's legislators together, is another way NACS members can advocate for the industry.
Jackowski closed her presentation by talking about Casey's just-launched brand campaign, "Here For Good." The tagline relates to the company's quality food, but it also relates to the guest experience and how Casey's serves its communities.
It tells the story of the c-store industry and of NACS, too, Jackowski believes.
"We all learn from each other. We make each other better. And we are there for each other every single day," she concluded.