An Inside Look at RaceTrac's New Made-to-Order Food Program
Get great content like this right in your inbox.
Subscribe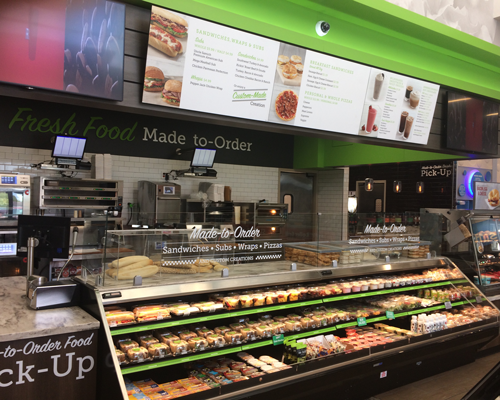 ORLANDO — RaceTrac Petroleum Inc.'s new concept convenience stores feature a full made-to-order, fresh prepared food program that takes the Atlanta-based retailer's foodservice to a higher level.
On a recent trip to Florida, Convenience Store News was able to view firsthand the new deli food counter that compares favorably with that of other food-forward, fresh food-oriented convenience store chains, like Wawa, which also operates stores in Florida.
RaceTrac's new program features sandwiches, wraps, a specialty hot and cold beverage bar with barista-style smoothies and shakes, and all-day breakfast items. Guests customize and order their meals on a touchscreen kiosk, and then can watch the store staff prepare their food.
The new deli-based food concept replaces RaceTrac's previous venture into made-to-order foodservice with the Speedy Avocado Mexican Grill.
So far, the deli concept is available at only a handful of stores in Florida, and about a dozen stores across the country.
At RaceTrac's 5,500-square-foot store in Orlando on John Young Parkway, customers can customize their breakfast sandwiches at an electronic kiosk. Other offerings include three different types of subs, four sandwiches, and one wrap; and made-to-order whole pizza, personal pan pizza and pizza slices. In addition, an extensive grab-and-go offering includes items from three roller grills.
Two employees work the kitchen at all times, and the goal is to deliver every sandwich within five minutes.
Earlier this year, RaceTrac announced plans to enter a new market, Middle Tennessee, opening 30 new-build stores there by 2023. This new market for the Georgia-based retailer is a natural fit for RaceTrac, according to President Billy Milam, because of its "young, vibrant population, along with the growth in commuting and mobile workplaces."
The first Middle Tennessee store is expected to open in Murfreesboro in 2020, with additional sites in nearby markets and Nashville over the ensuing three years. The exact menu of food offerings at the Tennessee stores has not been determined yet, but guests can expect to enjoy:
Grab-and-go breakfast sandwiches made in-house with hand-selected, high-quality ingredients like real buttermilk biscuits, flaky croissants, Jimmy Dean sausage and Tyson chicken breasts.

Sandwiches, whole and cut fruit, and salads made and delivered fresh daily. RaceTrac offers fresh sandwich and salad options such as the Turkey and Swiss with Tomato, Italian Sub, Club Stacker, Chipotle Kickin' Chicken Wrap, Farmhouse Cobb Salad, BLT Caesar Salad, Side Garden Salad and Greek Style Salad.

RaceTrac's Swirl World frozen treat station with a variety of ice creams, yogurts, sorbets and Italian ice, with up to 40 toppings that include a variety of chocolates, candies and fruits for added customization.

A variety of fresh-brewed "Crazy Good Coffee" blends accompanied by popular creamers, sweeteners and toppings for personalization.