Irving Oil Continues March Through Northeast U.S.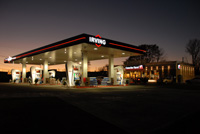 NORTH SPRINGFIELD, Vt. -- Irving Oil continues its growth spurt in the Northeast, and specifically Vermont. North Springfield Smart Shop, its new location at 16 Route 106, marks the third Irving location opened by Midway Oil in the past three months.
"As a family-owned company it was important for us to partner with someone with a strong reputation and a commitment to the community," Midway Oil's Frank Trombetta said in a release. "Irving Oil is exactly that type of company. We are excited to help grow the Irving brand in the state of Vermont."
The North Springfield Smart Shop features complete convenience store service, Green Mountain Coffee and parking. The location will also participate in Irving Oil's gas savings program with Shaw's Supermarkets.
The latest addition joins two Irving locations Midway opened in Poultney and Fair Haven, both also in Vermont, in October. And last month, Irving Oil paired with Perry Transport to open a truck stop with Irving Oil-branded diesel fuel in Maine.