Irving Oil Opens in Winnoski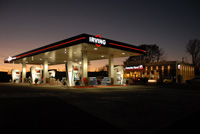 WINOOSKI, Vt. -- The first Irving Oil gas station in Winooski recently opened its doors to the community, with a grand opening celebration scheduled in the coming weeks.

The Handy family, who has owned and operated convenience stores in Vermont and New Hampshire since the 1970s are the new owners of the Irving Oil gas station. "We have been impressed by Irving's cleanly, well-lit, efficient stores and competitive prices for years and always wanted to be a part of the Irving brand. We can also relate to the Irving family story. Our family moved from Lebanon with barely anything and grew our business to 20 family owned and operated convenience stores throughout Vermont and New Hampshire. We're excited to bring Irving to Chittenden County," said Charlie Handy, in a company press release.

The new gas station, located at 401 Main Street, joins several new Irving Oil sites that recently opened in Vermont. The Main Street location offers complete c-store services and a variety of products at competitive prices, the company stated.

In the company press release, Harry Hadaris, general manager of Irving Oil Marketing stated, "Irving is always looking to partner with businesses that share our values for excellent customer service and a great fueling experience; we know that's exactly what the Handy family will provide."

Irving Oil has more than 800 fueling locations in New England and Atlantic Canada. As a regional family owned company, Irving serves its community by focusing on corporate social responsibility, and was the first-ever oil company to win a USEPA Clean Air Excellence Award for its clean gasoline, according to the company.