Jack Link's Show Off Its 'Wild Side' With First Retail Store
Get great content like this right in your inbox.
Subscribe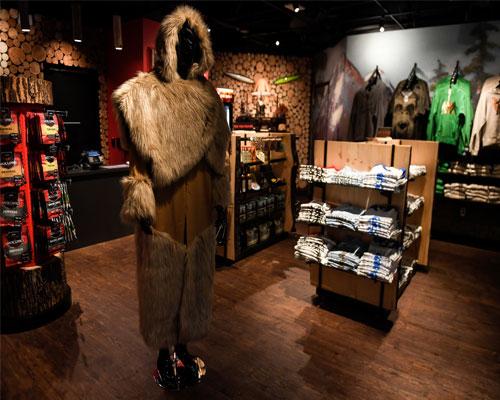 MINNEAPOLIS — Sasquatch and jerky fans rejoice: Jack Link's is introducing "Wild Side," a first-of-its-kind retail store.
The 800-square-foot store will debut Nov. 15, in the skyway level of the Minneapolis Target Center. The concept is part of a larger branding effort by Jack Link's, which includes new products, a major sponsorship of the Minnesota Timberwolves and Lynx pro basketball teams, and a soon-to-happen move into offices and research space across the street in Mayo Clinic Square, reported the Star Tribune.
"Over the past 30 years, Jack Link's has built an incredible base of highly passionate fans, and now we're giving them an official clubhouse where they can connect with the brand in a personal way," said Jack Link's CEO Troy Link. "The store is part tribute to the traditions that got us to where we are today and the innovations that will take us into the future. It's a place where fans new and old can get wrapped up in Jack Link's untamed spirit, and experience hands-on all the wild and wonderful elements our brand has to offer."
In addition to meat snacks, Jack Link's Wild Side offers merchandise like:
Ready-to-wear graphic T-shirts;

China plates featuring woodland scenes and Sasquatch maulings;

Northwoods-inspired garb, from camo hat-and-mitten sets to fleece Sasquatch pants; and

All-terrain stone-and-timber prehistoric bicycles.
According to Tom Dixon, Jack Link's chief marketing officer, most of the merchandise in the store has never been available before. If successful, Jack Link's plans to expand the brand store concept to other markets like Las Vegas and Orlando, Fla., the news outlet reported.
Jack Link's Wild Side also serves as a place for the company to unleash new products. Starting in 2018, shoppers can sample fresh-from-the-smoker jerky in experimental new flavors, hand-carried from the innovation center in Jack Link's new Minneapolis office space.
"Having the Wild Side store so close to our innovation center means we can immediately give people a taste of new products and get feedback on the spot," Dixon said. 'Our fans are a big part of our success and their feedback is critical. This is the most direct way for us to react to trending tastes and new product forms in real time and keep Jack Link's bringing innovation to the category quicker than anyone else."
The retail store additionally is the brand's first foray into haute couture, with the debut of Sasschál, an outerwear statement piece crafted in partnership with the design duo of Idle Child. The accoutrement was inspired by Sasquatch's luxurious fur and features a man-beast-inspired hood, faux pant legs and vintage fang buttons.
The Sasschál allows you to clothe your inner untamed spirit with outward-facing splendor, according to Jack Link's. It has a $5,000 price tag.
As one of five chief sponsors of the Timberwolves and Lynx, Jack Link's Wild Side will have extended hours during events and games at Target Center, in addition to being open during the weekdays and Saturday.