Jack Link's Takes to the Skies for National Jerky Day
OMAHA, Neb. -- Jack Link's today celebrated National Jerky Day in style by showering the Great Plains of Nebraska with more than 1,000 bags of beef jerky. The Minong, Wis.-based company also gave away more than 33,000 bags of jerky to fans and charities across the country.
Jack Link's employed a helicopter to drop individual, mini-parachutes of beef jerky onto Omaha Champions Village in Omaha, Neb., home to national amateur baseball tournaments. Hundreds of youth baseball players, spectators and fans gathered to witness the "jerky shower" as part of Jack Link's "Operation Sky Meat."
"We are never short o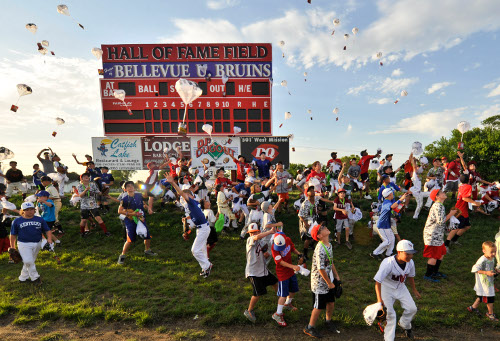 n ideas and this one rose quickly to the top," said Kevin Papacek, director of marketing for Jack Link's. "Operation Sky Meat -- a mission to literally drop a massive amount of jerky from the sky -- applauds the unconventional, the unexpected and the untamed spirit of the brand and was the first of many ways to celebrate National Jerky Day 2013."
Nebraskans were not the only ones who experienced National Jerky Day giveaways. Los Angeles consumers received free samples of Jack Link's at the Hollywood & Highland Center and captured rare sightings of the elusive Sasquatch, known from the popular "Messin' with Sasquatch" commercials.
Also in the City of Angels, Jack Link's Beef Jerky made a comedic appearance on ABC's "Jimmy Kimmel Live!" The segment will air tonight on the late-night show.
As for charitable donations, Jack Link's provided thousands of bags of jerky this month to organizations including the American Red Cross relief efforts in Oklahoma City, as well as YMCA summer programs in Atlanta; Detroit; Kansas City, Mo.; Mankato, Minn.; Milwaukee; Pittsburgh; and Seattle.
National Jerky Day is celebrated annually on June 12. In coordination with the holiday, the governors of both Wisconsin and Iowa went even further this year by proclaiming today Jack Link's Jerky Day.
"I'm happy to officially proclaim Wednesday, June 12, 2013, as Jack Link's Jerky Day throughout the great state of Wisconsin," said Gov. Scott Walker. "With its corporate offices and facilities in Minong and New Glarus, Jack Link's has infused the region with jobs and is fostering economic growth throughout the area. I'm proud to commemorate Jack Link's on this special day."
Jack Link's offers more than 100 meat snack products at retail outlets in 40-plus countries.