Jiffy Mart Jumps on New Opportunities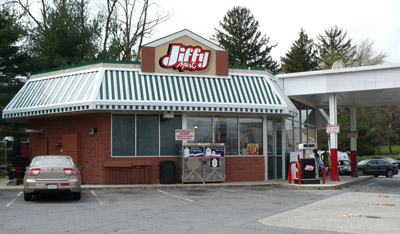 WESTMINSTER, Md. -- The past 12 months have been quite busy for Jiffy Mart, a division of Tevis Oil Co.. And, according to the operator of four Maryland convenience stores, the next 12 months will provide plenty of excitement as well.
"Our goal is to always look for ways to increase sales, gross profits, keep costs in line and of course, increase our net profit," Tom Moser , general manager of Tevis Oil/Jiffy Mart, told CSNews Online. "We always want to remain heavily active in our community. All of our four stores are in Carroll County, [Md.], so a lot of customers and organizations within the county support our stores, [and] in turn, we like to support them."
Dwayne Cover, business manager for Tevis Oil/Jiffy Mart, added that other company goals include important yet simple things, such as maintaining friendly, clean and well-stocked stores, while having fun at the same time. "We are looking for new opportunities every day," he said.
Some of these new opportunities are about to come to fruition. In the coming weeks, Jiffy Mart will launch a "Cups that Count" program, an initiative intended to benefit local schools and drive in-store traffic. According to Moser, Jiffy Mart will sell a hot/cold travel cup in its stores bearing the logo of a local school. Proceeds from the sale of a particular cup will benefit a particular school, not Jiffy Mart.
"The additional benefit for that customer is they will get the first refill free and a discounted refill price when using that cup at Jiffy Mart. Normally we offer 99-cent refills, but using this cup, refills will be 75 cents," Cover explained.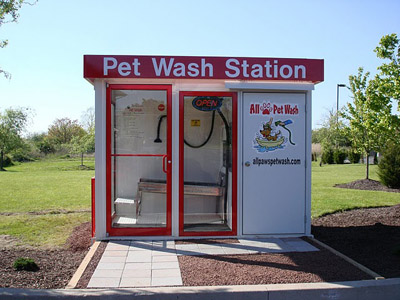 Another new addition at Jiffy Mart will be a Pet Wash Station supplied by All Paws, a division of CCSI International Inc. The product -- designed primarily for dogs -- is aimed at providing a low-cost alternative to pet grooming. Using a pet wash allows dog owners to avoid cleaning up hair and other messes that washing a pet in a bathtub or sink would cause.
The pet wash will be located at Jiffy Mart's Westminster store, on 1 Magna Way. The chain's goal is to open it in May.
Plenty of other changes are underway now at the c-store retailer's locations, too. Jiffy Mart debuted a new coffee program and refurbished its Finksburg, Md., store within the past month alone. While in-store sales are rocketing higher so far this year, Moser said coffee sales have not been as strong, necessitating a change. Coffee sales are virtually flat compared to last year.
"We looked long and hard at our coffee business in the past couple of months," said Moser. "We offered a lot of different coffee flavors at our stores. We looked at which flavors were selling well and which weren't. We wanted to be consistent from store to store."
Jiffy Mart also felt changing coffee equipment was important in order to sell an even fresher product. The c-store operator subsequently switched from a dispensing system that featured a mix of airpots and glass pots to the ThermoFresh digital server and brewing system at all of its locations.
"Now, we have a consistent coffee taste at each of our stores," Moser said. "It also helps us better manage the coffee because each of those servers have a digital timer that starts counting down from the time you brew it. We then change out the coffee every two hours."
According to Cover, the new coffee brewing method has paid off. Jiffy Mart is focusing on the same six or seven blends at each of its stores and hopes to add a seasonal brew to the mix down the road. Customer feedback has been excellent thus far, he added.
Strong retail sales, sans coffee, have been driven primarily by foodservice, according to Moser. Jiffy Mart's total sales are up 8 percent in-store this year, compared to the same period in 2011. Gross profits have increased by 10 percent.
"We focus heavily on foodservice," said Moser. "Three of our four stores have Subway within them. Subway's Baltimore region sales are up 3 percent thus far this year, but our three stores have seen Subway sales improve by 11 percent. And in the store where we don't have a Subway location, foodservice sales are up 9 percent year to date."
General merchandise is another big seller as Jiffy Mart stores are well-stocked with Baltimore Ravens football items, including T-shirts and bobble-head dolls. To further this effort, the retailer has teamed up with Sam Koch, punter for the Ravens and a Carroll County resident.
"We were looking to partner with a Ravens player from this area," said Moser, himself a huge Ravens fan. "Going back to our community efforts, we have partnered with Carroll Food Sunday, which offers food items such as milk to families in need. So, we're planning an event in the next couple of months to reward customers who come in and sponsor a milk voucher with an autograph from Sam. All money raised will go to Carroll Food Sunday."
As for the Finksburg store remodel, Cover said the location, which opened in 1981, started to become "tired looking" both on the interior and exterior. Carroll County gave Jiffy Mart another incentive to remodel the store via its Gateway Improvement Project.
"That store sits on a corridor on Route 140," Cover said. "People travel that route heavily to get into Baltimore. Our location there is the first or last stop whether you are traveling in or out of Carroll County. The Gateway Improvement Program was put together to encourage businesses on the Route 140 corridor to refresh their store or business and give it a better look. We've done a little renovation work in the past, but the store needed some work and it also looked different from our other locations. Our goal was to get that store to look like a Jiffy Mart."
Next, the company will look to spruce up its other three stores. First on the list is Jiffy Mart's Hampstead location. "We're going to take a look at an interior upgrade there," Moser said. "We'd like to refresh the interior graphics and the look of the store. We also want to look into resetting our grocery aisles and taking a look at our coffee bar and fast-food layouts. Also, we want to get this store in line with the look we just incorporated into our Finksburg store."
Jiffy Mart has already "got the ball rolling" on the Hampstead store refreshment by contacting the same company who handled the Finksburg renovation. It is currently awaiting the firm's recommendations for how the store can be improved.