Jiffy Mart Revamps Coffee Program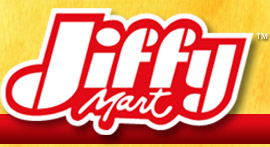 WESTMINSTER, Md. -- Jiffy Mart has partnered with Lacas Coffee and Cooper Booth Wholesale to revamp its coffee program. The Maryland-based convenience store chain replaced its mix of air and glass pots with ThermoFresh digital server and brewing system at all of its locations.
"The ThermoFresh server is designed to keep coffee fresh and at proper temperature for two hours whereas coffee held in a glass pot on a warming unit tends to breakdown much sooner," said Dwayne Cover, Jiffy Mart business manager. "As a result, we expect to see an increase in sales and a decrease in waste."
The new coffee program also appeals to the retailer from a food safety standpoint, added Tom Moser, Jiffy Mart, general manager.
Jiffy Mart also introduced new server wraps that feature the coffee flavor, a description of the blend and the strength of coffee as indicated by one, two or three beans. The wraps also show the co-branding relationship with Lacas Coffee.
"Cooper Booth Wholesale also plays a major part in the success of our program by maintaining our equipment on a regular basis and tracking item movement to help determine which flavors are working and which are not," Moser said.
Flavors included in the revamp include Breakfast Blend, Colombian Decaf, Kona Blend, French Roast, French Vanilla and Shock. Jiffy Mart will also offer four signature blends to correspond with changes of season.
A division of Tevis Oil, Jiffy Mart operates four stores in Carroll County, Md.